Camila Mendes tells us the $10 hair product she's used since fifth grade, and how she gets rid of acne overnight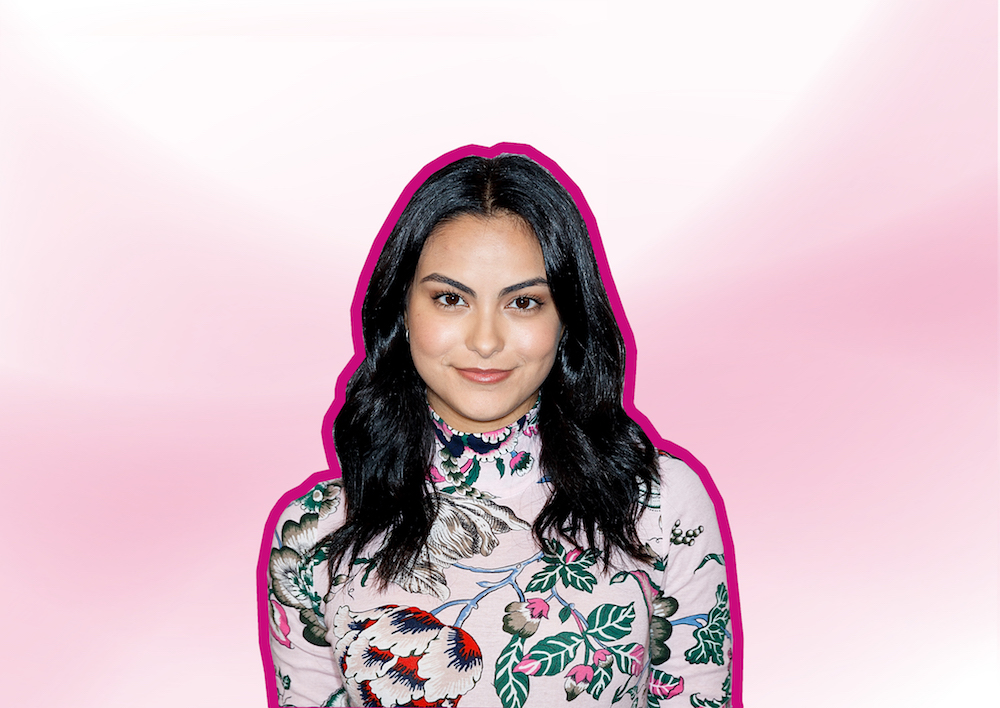 Riverdale's Camila Mendes might play Veronica Lodge, a high society teen on the hit CW show, but in real life the actress is the polar opposite of her character. Because of the popular TV series, she is one of Hollywood's buzziest stars; that doesn't mean, however, that she's let her newfound fame get to her head. Take one look at her Instagram and you'll see that she's remained grounded—whether she's talking about body positivity, calling out trolls, or snapping goofy photos of herself, Mendes is playing by her own rules.
So it's no wonder that when she teams up with brands, it's not something that feels like a quick buck collab. Rather, she's working with the brand because she either believes in its mission or she actually uses its products. Mendes sat down with HelloGiggles to talk about all things beauty, including her partnership with John Frieda. She told us that she's been using John Frieda products since fifth grade, and if that's not loyalty, we don't know what is.
The Riverdale star wasn't afraid to also talk about body acceptance and how she's over being hard on herself. She even dished on the products she uses to clear up her acne overnight, and what skin care product she bought after her co-star Lili Reinhart recommended it to her.
HelloGiggles: What are some of your favorite hair products to use from John Frieda?
Camila Mendes: Well, the classic answer is my Frizz-Ease Serum. That's something I've been using since fifth grade, when I was 11 years old. It's one of those products that's been my tried-and-true. I tend to have dry ends—I feel like most people have dry ends—so that kind of quenches the thirst of my tips. It also gets rid of any frizz on the top. I put most of it here [the ends of her hair] and then whatever's left, I pat it down on the top of my head. And then there are the new products, and my favorite is the Wavy Refresh Spray. I try to keep my hair styled from set. I like to come home and maintain that hair the next day because I never feel like doing my own hair.
HG: Do you have tips on how people can use a hair oil without their hair looking too greasy?
CM: The thing is, my hair is pretty much on the dry side, so it really absorbs the moisture well. I feel like it never makes my hair look greasy, so I can't speak from experience with that but I don't think it's a thick serum. I don't think it's something that drowns out your hair. I know what you're talking about, but I've never experienced that with Frizz-Ease or the Smoothing Dry Oil, which is from the Day 2 Revival.
I feel like you're no stranger to using random products when it comes to beauty (Camila recently used a pancake as a makeup sponge), have you secretly used John Frieda's hair oil to keep your brows nourished?
CM: No! Is that something you do? My brows stay pretty moisturized, I guess, from all the moisturizer I put on my face.
HG: Hair is such an important part of Latin culture, what does your hair mean to you? Has it played a role in your career?
CM: It definitely plays a role in my career because it's the frame of your face, and I feel like it can say so much about a person. The way you style your hair is kind of like your statement to the world. Whenever I go into an audition, I style my hair according to the character that I'm playing and what I want to get across about the character, you know? So either I'm trying to lean into the wild side or I want something more sleek. All of those things say something about a person, so it definitely plays a role in my career.
HG: Has there ever been a hairstyle you did for an audition or role that was out of your comfort zone?
CM: Yeah, I've done a single french braid in the back. I would never do that. One, because I'm too lazy, and two, because I usually love my hair down. That's usually what I feel best wearing, but for the character, it puts me in this mood. In a way, it changes the way I act.
HG: What's the one hair color or cut you'd love to get that you haven't yet?
CM: I would love to get a long bob, but a subtle one. Not like a really stark one, but one where it's a little shorter in the back and longer in the front. I'd want it to hit my shoulders, you know? I don't think I could do above the shoulders, I think that's a little too bare for me. But I could do a bob. In terms of hair color, I don't know. I feel like the hair color I have now is best suited for me, although my natural hair color is more like yours. It's a dark brown, which I really miss. I miss having that brown hue, but I dye my hair for work. So it's either brown or black for me.
HG: How do you keep your skin so clear, especially when you have to wear makeup for long hours during filming?
CM: It hasn't been clear as of late. As soon as we wrap, I wash my face. That's the first thing I do. And I also started using these pads, I don't know what they're called. They're like finger puppets. It's like a furry thing that you can throw in the laundry. Instead of using makeup wipes that are really harsh on your face, you use this furry pad that you put your makeup remover on and it gently takes off your makeup. It's so much better than scrubbing your face with paper. I also use toner; I really stick to my toners. My Jurlique Rosewater Spray. That's my go-to.
I know you mentioned your skin hasn't been as clear lately, what are some products or remedies you do when you have a breakout?
CM: I usually use the IS Clinical Active Serum that my facialist gave me. I put it on before I put on my moisturizer. It's one of those things that's active, so it actually works and you can feel it working when you put it on. It feels really cool and nice, and I know because I accidentally got some on a paper cut and it hurt really bad. I was like, this must be working!
HG: How do you find something that works for you when there are so many products out there?
CM: Being in the industry, people send you all these products and I'm constantly trying new things and it gets overwhelming. Sometimes it feels like I'm trying too much and I'm over-complicating my routine when you really gotta stick to the basics. I just stopped experimenting with moisturizers, and now I only use the Beautycounter Adaptive Moisture Lotion because it adapts to the natural moisture level of your skin. As soon as you put it on, it naturally fits into your skin type. You kind of have to get used to something so your skin can adjust and if you're constantly changing your routine, your skin is freaking out.
HG: What are some self-care rituals you do?
CM: I love taking baths. Light some candles, throw in a bath bomb, listen to music, and just breathe and meditate. I recently got an apartment that has a bathtub in it—usually it's just showers, so I never had that luxury. But now that I have a bath, it's changed my life.
HG: Are there any beauty products you've stolen from your boyfriend or the rest of the Riverdale cast?
CM: Lily [Reinhart] introduced me to Renée Rouleau. She's got some skin treatments, like the Rapid Berry Peel and the Detox Mask. I think I'm close to the names. Every time I break out, especially when I'm flying or traveling a lot, Lily is like use that as soon as you land. And I listen to her because she's a skin expert. I used some last night because my skin was so bad. As soon as I wash it off, I can see my skin calming down and it having a different texture.
HG: Your skin looks so good though. I would not have guessed it looked bad yesterday.
CM: Thank you, I have makeup on right now. But I've been better at not picking. I pick so much, and it's so hard to resist. When you're an actor and you're constantly in the hair and makeup trailer, where the lights are the strongest because they wanna see every flaw in your face, it's hard to not sit there and obsess over every little thing. When in reality, no one is ever under that type of light.
HG: Speaking of learning to accept yourself, pimples and all, you've also talked about your struggles with body image. What advice do you have for someone who might feel the same way?
CM: I always try to remind myself of two things. The first is treat yourself like you're your own best friend. So if you were your best friend in that situation, what would you say to that best friend to make her feel better? And the second thing is we hold ourselves to such an unrealistic standard, and at the end of the day, why do you have to hold yourself to perfection? It's impossible to be perfect, so why are we still adhering to that? I just accept the fact that I'm imperfect, and I know its easier said than done. I know it's not easy, but I think we have to give up that idea, and stop being so hard on ourselves and accept that you're imperfect. Love yourself however you are.
HG: I think the good thing is that there's this new wave of diversity in media. Whether it's seeing different body types, different skin tones, or different people than what we're used to seeing.
CM: Yeah, and all of those people now have a platform, which is social media. They can get their faces out there and people are connecting through that. You start to see people like, maybe you live in a hometown where you don't see a lot of people like you. So you go online and see all these people that exist somewhere else in the world, but it still gives you a sense of community or feeling of acceptance.
HG: Lately, there seems to be a shift in representation in Hollywood. What does that mean to you as a Latina?
CM: It means a lot that people are actively searching for Latinas to be at the forefront of the story rather than the best friend or the sassy, fun character that just adds comic relief. I think it's nice that we're getting our own stories to tell.
HG: Even your character on Riverdale is Latin but that's not the main focus. You're more than that.
CM: Yeah! And we'll sprinkle in certain facets of their heritage, but it's not like they're trying to prove anything. She's a three-dimensional character, and you really feel that.
HG: I love when your mom, Hermione Lodge [played by Marisol Nichols], is like "mija." It reminds me of my mom or my grandma.
CM: Yeah, it's just a little bit. A little reminder.