Camila Mendes clapped back after a troll criticized her relationship with Charles Melton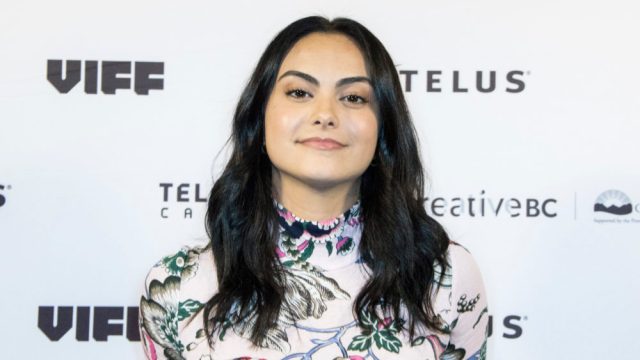 It's been about a month since Riverdale stars Camila Mendes and Charles Melton confirmed their relationship with an adorable Instagram post. And while many fans are thrilled for the real-life Riverdale couple, aka Charmila, it unfortunately seems like the two still have to deal with some haters. The actress did not mince words when one Instagram user told Mendes that she seemed "happier" with her ex.
Clevver reports that a since-deleted fan account posted side-by-side paparazzi shots of Mendes with Melton and Mendes with her ex, Victor Houston. In the picture with Melton, Mendes appears to be scowling (although we don't know the actual context), while in the photo with Houston, she's smiling. The Instagram user captioned the post with, "Cami looked happier with Victor."
Mendes, however, would beg to differ. The actress defended her current relationship in a reply to the post, telling the user, "you're wrong."
"I feel silly responding to this but I also feel the impulse to tell you that you're wrong. I'm happier than I've ever been in my life," she wrote. "It's absurd to me that you call yourself a fan yet, your entire page is dedicated to disrespecting my relationship and my boyfriend, both of which you clearly know nothing about."
The 24-year-old went on to clarify that she had been rehearsing lines for an audition in the picture with Melton.
"Charles and I were on our way to shoot a self tape, which he helped me with all day," she wrote. "Literally stopped everything he was doing to help me tape the perfect audition. I was running the lines in my head without even knowing there was a pap taking photos of us."
She noted that she knew there were cameras around in the photo with Houston, which is why she was smiling.
https://www.instagram.com/p/Bo9foInnAQG
We never know what's going on in the inner-lives of couples—not even celebrity couples (sorry). Hopefully both Mendes and Melton deal with less judgment in the future…because relationships are already hard enough.