Camila Mendes made it Instagram official with her Riverdale costar, and the pic is everything
Move over, Cole Sprouse and Lili Reinhart (kidding—we love you guys), because there's officially a new IRL Riverdale couple for us to ship. After weeks of speculation that costars Camila Mendes and Charles Melton were more than just friends, the two confirmed #Charmila is real by making it Instagram official.
It's been rumored that Mendes and Melton's characters, Veronica Lodge and Reggie Mantle, are set to strike up an unlikely romance in Riverdale Season 3. So imagine our delight when Mendes posted a sweet PDA-filled pic to Instagram on October 7th that confirmed they're dating IRL.
The adorable picture shows Melton, 27, playfully kissing Mendes, 24, accompanied by a single word.
"mine," the actress wrote.
https://www.instagram.com/p/BopKY-LAeZK
So cute, right? And Riverdale fans were quick to share their excitement.
https://twitter.com/udfredirect/status/1049017200017920002
false
However, the best comments arguably came from their fellow Riverdale cast members, including Mendes' onscreen boyfriend, KJ Apa, who plays Archie Andrews on the CW drama.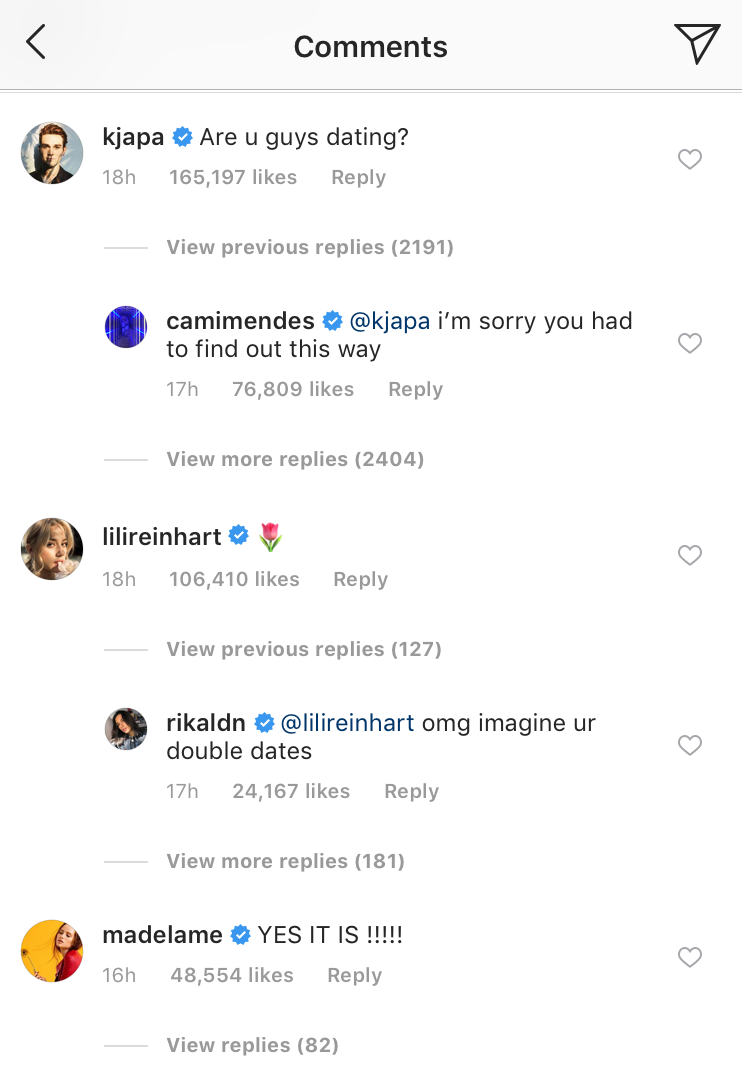 E! News was first to report that Mendes and Melton were potentially dating after they were spotted at a movie theater with other members of the Riverdale cast in Vancouver, Canada, in September. According to an eyewitness, they saw Mendes lean on Melton's shoulder, and "as the lights were dimming, my friend saw them kiss!"
But eagled-eyed-fans knew ~something~ was going on between the pair way before their alleged movie kiss. The couple first sparked romance rumors over Labor Day weekend when Mendes posted the below photo (check out that towel-sharing action).
Now excuse us while we take the day to think about all the Mendes-Melton-Reinhart-Sprouse double dates in our future.