Camila Cabello opens up about overcoming anxiety and tells fans, "You're worth the fight"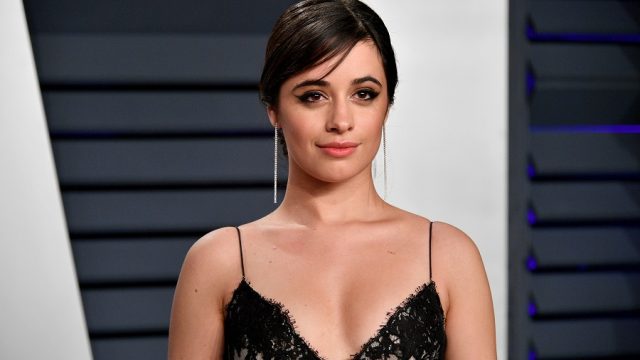 Any time a famous person opens up about their mental health struggles, we hope it helps their fans feel a little less alone in whatever they might be struggling with, too. The latest celebrity to open up about battling anxiety is Camila Cabello. The singer posted a message to her fans on Instagram, revealing that she has battled anxiety since childhood, and we are listening.
On July 21st, Cabello shared two photos of herself (one with her adorable dogs, Leo and Thunder), adding a message to her fans in the captions of the posts. She began by saying she loved hearing stories about her favorite singers who enjoyed performing for their families, but how she always felt afraid to do so for her own loved ones.
She wrote, "I was the opposite, I never ever sang in front of my parents or friends and would get flustered when they would ask me to, I sang in my room when my parents left for Walmart and cried when one day I saw them filming me through the crack of the door, I got teary eyed when people sang 'happy birthday' to me because people looking at me actually made me overwhelmed."
https://www.instagram.com/p/B0L9HecH_zl
Because of her ability now to get onstage and perform in front of thousands of people, she added, "I was generally incredibly nervous and socially anxious when I was little; and people always have this look of disbelief when I tell them that."
She added, "I feel like my whole life there's been two Camilas in me,"—the "little Camila that is terrified of the unknown, is aware of all the ways everything can go wrong, (actually can picture them vividly lol), and thinks it's safer to stay home than to play ball," and the other Camila that "knows what she wants out of life, is aware of how little time I have to let little Camila run the show while time passes by, and grabs young me by the hand and forces her out the door saying 'Let's go. You'll survive, and I'm not gonna miss out on this. Let's go.'"
https://www.instagram.com/p/B0Kjhg6nAfW
She says she used to feel "discouraged" hearing stories that people knew exactly what they were supposed to be, adding, "The truth is you decide who you're going to be. Every day. I'm not talking about talent or success. I just mean the type of person you're going to be. If you haven't been very brave, or very social, or wild, or an adventure seeker, if you describe yourself as the opposite of those things…it doesn't mean you can't be."
https://www.instagram.com/p/B0L93G4nU9j
Cabello revealed that the "little Camila hasn't left. I just don't let her boss me around as much…The essence of me is the same, but I've changed so much as a person. You choose who you're going to be. Force yourself to do what you're afraid of, always—and go after what you want and who you want to be, because you're worth that. You're worth the fight. It's the most worthwhile one there is. Love you."
This isn't the first time the "Havana" singer has opened up about her anxiety. Back when she was part of Fifth Harmony, she apologized to fans for leaving the stage early during a concert, saying on Snapchat, "Was having too much anxiety and couldn't finish it."
Even though we're sure it wasn't easy for Cabello to open up about the anxiety she has faced for so long, we admire her for sharing such personal stories with her fans. Her message is exactly what so many need to hear.