Cameron Diaz revealed what actually went down during that iconic karaoke scene in My Best Friend's Wedding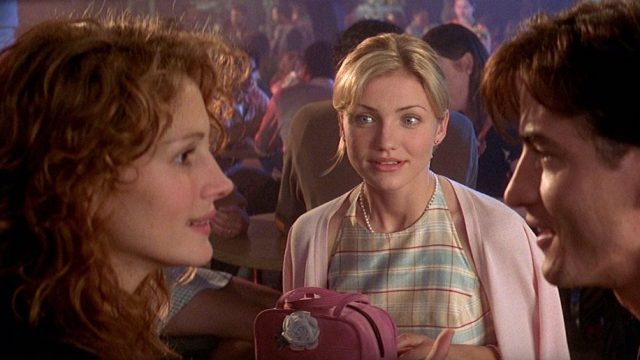 Just months after revisiting their iconic 1997 romantic comedy My Best Friend's Wedding during the press tour for Amazon's Homecoming, Julia Roberts and Dermot Mulroney reunited with costars Cameron Diaz and Rupert Everett to celebrate the film for the latest cover of Entertainment Weekly. As any true rom-com buff will recall, the film follows food critic Julianne (Roberts) as she attempts to sabotage her (you guessed it) best friend's wedding.
And while the entire interview was a delight, one of the highlights entailed Diaz and director P.J. Hogan opening up about the film's iconic karaoke scene. In the scene, Julianne attempts to humiliate Kimmy (played by Diaz) by forcing her to sing in front of a huge crowd…but the move totally backfires, leaving Kimmy the hero of the night.
Here's the scene—in its full, uncomfortable glory.
And it turns out the panic in Kimmy/Diaz's eyes leading up to the moment was all too real. Hogan revealed that just about every aspect of the scene was shot live (as in, Diaz really stood up in front of an entire crowd of people and sang). "Cameron just botched her way through the song," he said. "And the worse she got, the better the scene was. But then Cameron was so game that the applause started to become real."
Diaz added that while she was "terrified" to film the scene, she kept her focus on Mulroney, who silently coached her through it all.
"I was terrified to do that scene, for real. I allowed the true terror of singing in front of people to be alive in me," Diaz revealed. "I wanted to run and hide, and Dermot kept me there. He said, 'You can do it, you can do it.' In the scene I'm just staring at him the whole time because he's looking at me like, 'You're okay. You're not gonna die.' And I was like, 'But I'm dying.'"
As Everett rightfully points out in the interview, it works so well because it quickly shifts from goofy to endearing—which is no easy feat. Now, does anyone else feel the need to stop everything they're doing and rewatch this movie for the rest of the day?