Cameron Diaz point-blank confirmed that she's "actually retired," and let's process this together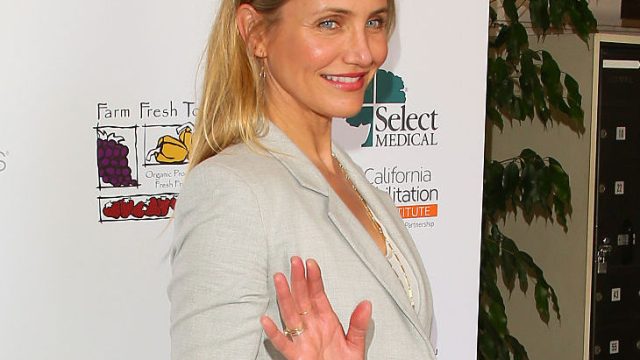 Earlier in March 2018, Selma Blair casually let it slip that Cameron Diaz had "retired from acting." It's true that Diaz hasn't been in a movie since 2014's Annie, but we wouldn't have gone so far as to assume she'd retired. Blair mentioned that, over dinner, Diaz reportedly told her that she's "done" with acting. We had to take this all with a grain of salt because we didn't get it directly from Diaz herself, and Blair later tweeted that it was a joke. Unfortunately, Diaz just confirmed it — she really is retired.
Diaz, Blair, and Christina Applegate sat down with Entertainment Weekly to talk about their iconic and raunchy female ensemble comedy The Sweetest Thing. The interviewer asked the women if they've reunited since the movie's release in 2002, which is when Diaz confirmed that she's free to hang out now that she's "retired."
"Goddamn it, why not?" Diaz asked the group about their inability to get a reunion together. "I don't know. You guys tell me. I see Selma," Applegate retorted.
Maybe I should," Diaz countered. "You know, I mean, I'm down. I'm literally doing nothing."
"I'm literally doing nothing, too!" Applegate said. "I'm semi-retired, I haven't worked for years. I'm a mom, that's what we do. So I'm around, man."
"That's so awesome," Diaz added. "I'm totally down. I'm semi-retired, too, and I am actually retired, so I would love to see you ladies."
The saddest thing about this whole revelation is that we get zero new Cameron Diaz in our lives now. She's barely on social media either: her last Instagram was posted before the election.
https://www.instagram.com/p/BMjvyRmA620
Diaz hinted at her retirement at a GOOP event in July 2017 when she said she was retreating from Hollywood to work on herself.
"I just went, 'I can't really say who I am to myself,' which is a hard thing to face up to," she revealed at the time. "I felt the need to make myself whole."
We'd love to see Diaz grace our screens yet again, but as long as she's happy, we're happy — and it sounds like she is.