Cameron Diaz Launched a Clean Wine Brand She Says Has the "Perfect Rosé"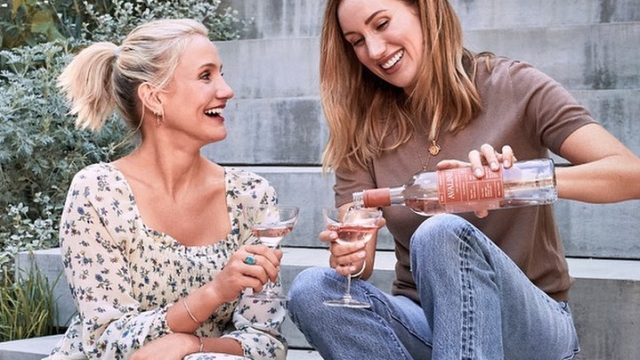 If you've been wondering "where in the world is Cameron Diaz?" the short answer is she's been busy since she retired from acting. The long answer is that she's been busy crafting a totally clean wine brand called Avaline with her BFF Katherine Power, which dropped yesterday July 9th.
Diaz was compelled to create her own organic, clean, vegan wine after realizing she was wrong about what ingredients go into making wine. "My whole life I thought it was just fermented grapes." she told InStyle.
"If you're not drinking wine with organically grown grapes, you're drinking pesticides—it's nothing you want inside of you," she said, adding that most wines include more than 70 additives, including Mega Purple, which is the coloring in red wine that turns your mouth purple. And many aren't actually vegan because, as Diaz said, "they're filtered through either egg whites or fish bladder lining."
So, after two years of trial and error, the Charlie's Angels star and Power started their own wine brand, Avaline—a name chosen from a baby name website.
Avaline wine is free of dyes, sugars, and concentrates, and each label clearly marks what's inside.
"In the wine industry, there are no regulations, there's nothing that says that the label has to be transparent about what's inside of it," Diaz told InStyle. "We think our consumers deserve that." 
The coronavirus (COVID-19) pandemic has affected Diaz and Power's initial launch plan, but they've been using their friends and families as guinea pigs in the meantime. "We've been able to share it while visiting select friends and practicing social-distancing," Diaz said of Avaline. "The response has been just as we had expected: 'It's the perfect rosé!'" We're sold.
Diaz's last film credit was 2014's Annie, in which she played Miss Hanigan. In a 2018 roundtable interview with Entertainment Weekly, she said she was "retired." She reiterated her plan in May of this year, saying on Instagram Live, "I am not going to do more films at the moment." She's been relatively quiet about both her personal and professional life since stepping back from the spotlight.
Now you can support her new professional endeavor—and enjoy the "perfect rose" while doing it. Avaline Rosé and Avaline White Blend are currently available for preorder for $19.99 at Wine.com. Bottles will ship on July 15th.