Wearing this no-show bra makes me feel like I'm going braless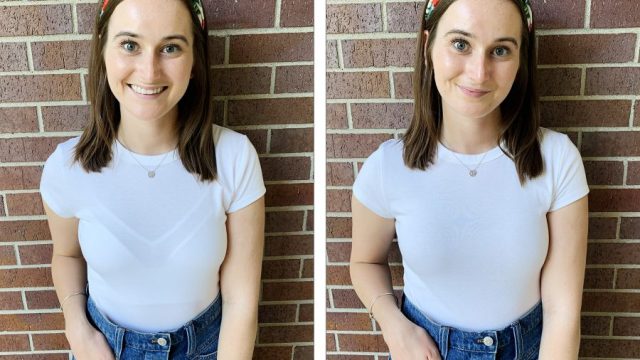 White T-shirts in the summer are like black booties for the winter: They're non-negotiable. These no-fuss tees are summer staples, but the carefree look can be quickly ruined if underwires and other bold bra lines show from underneath. Luckily, there's a bra out there that not only eliminates these issues altogether but compliments your boobs, too. Let me introduce you to the Calvin Klein Invisibles Bralette.
As far as intimates go, the Calvin Klein Invisibles Bralette is, hands down, my go-to pick. Made of nylon, this bra feels and looks as smooth as butter, and it stretches to fit my body as if it were custom-made for me. My college roommate introduced me to this godsend when she proudly pranced into my room wearing what I deemed a "grandma bra," but the second I slipped the Calvin Klein Invisibles Bralette over my head and felt the soft fabric against my skin, I was sold. I immediately ordered two of my own online, and the pros of this bra kept stacking up like dominoes.
The Calvin Klein Invisibles Bralette feels nearly nonexistent against my skin, like I'm wearing nothing at all—and under tight shirts, it looks invisible, too.
However, unlike when I go braless (as I can easily do with B cups), the soft, wire-free cups of this bralette round out my boobs like no other bra I've ever worn. My chest instantly looks bigger, perkier, and smooth—as if my boobs are naturally that size and shape.
The best part? No pesky underwire lines or straps are visible. My back is as smooth as can be, as if I'm wearing no bra at all.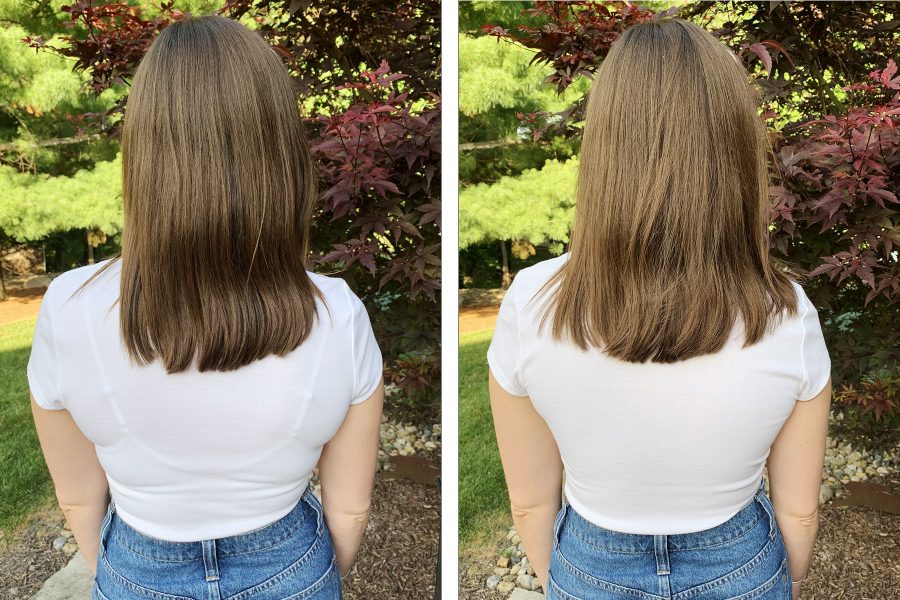 But unlike uncomfortable sticky boobs—which similarly dodge those dreaded back bra lines—the Calvin Klein Invisibles Bralette could not be more comfortable, even in humid summer air. Still not convinced? The bra is currently 15% off at Bare Necessities, so you can snag your new summer staple at a slashed price.
Calvin Klein Invisibles Bralette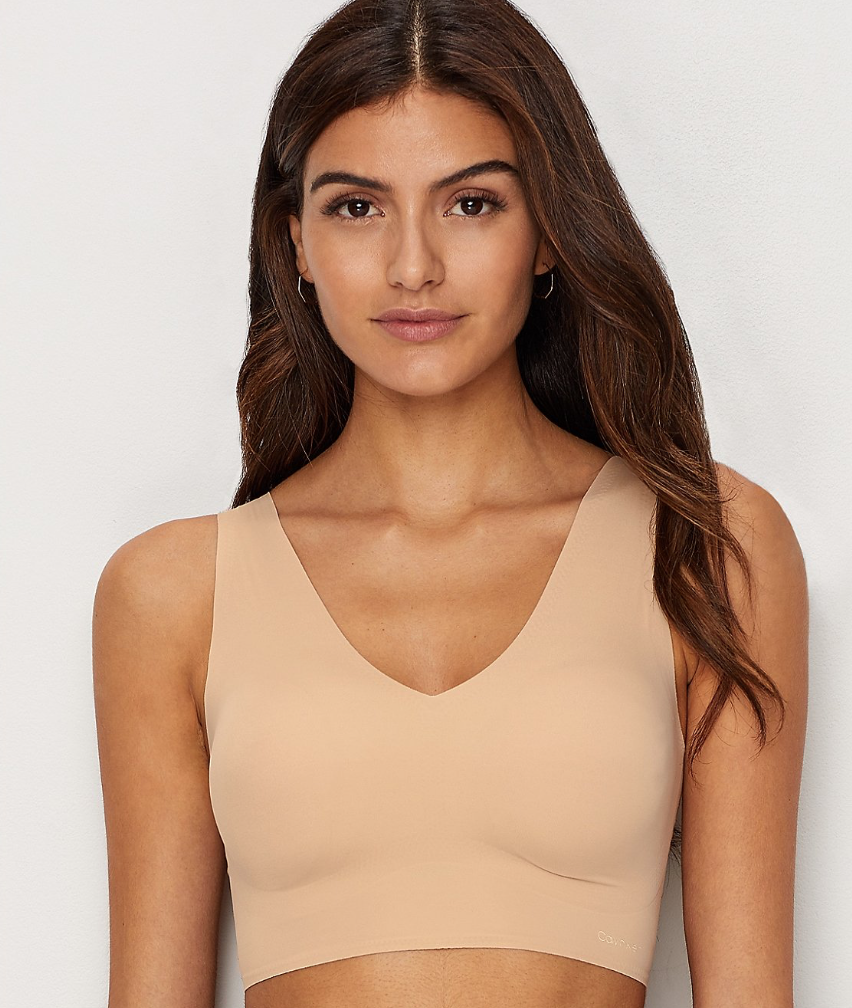 The plunging neckline of this bra pairs perfectly with V-neck T-shirts. The wide straps make some tank tops hard to wear over this bralette, but the sleek fabric means no straps or adjustable tabs are visible on your back.
Calvin Klein Invisibles Comfort Bralette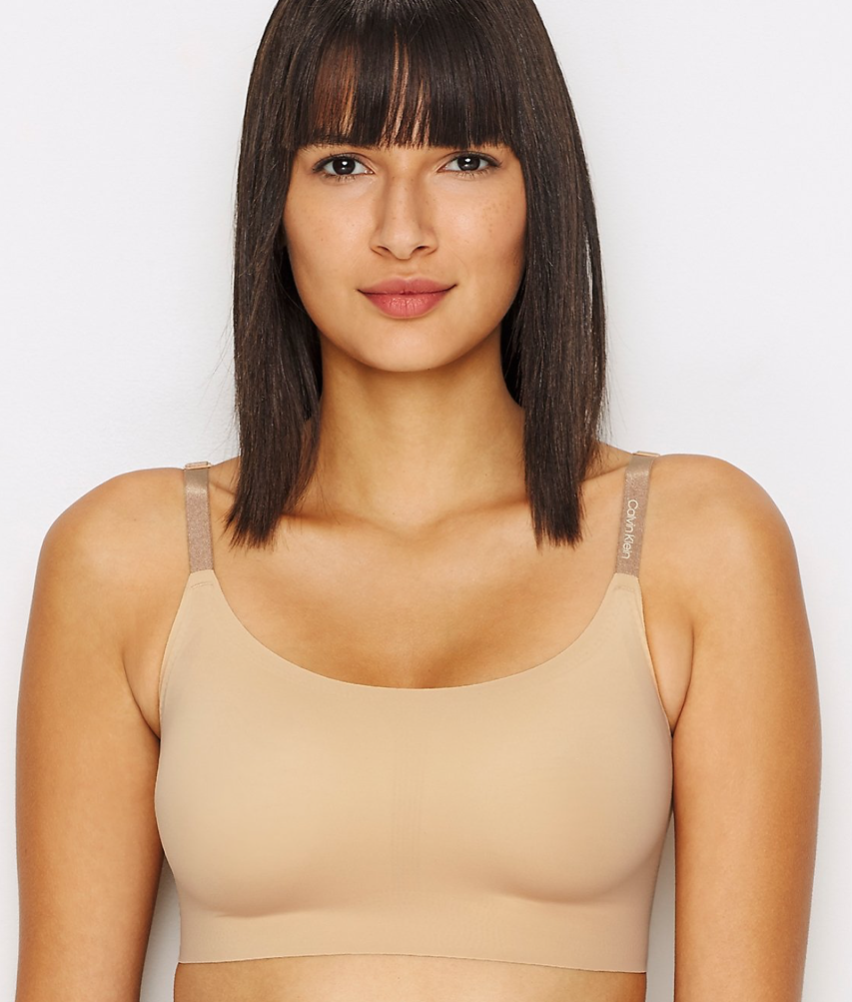 Shop Now! $30, [tempo-ecommerce src="https://www.dpbolvw.net/click-8191803-13729829?sid=HGFASNoShowBraGoingBralessCHarmeyerJUL20&url=https://www.barenecessities.com/calvin-klein-invisibles-comfort-bralette-qf4783_product.htm?pf_id=CalvinKleinQF4783″ title="BareNecessities.com" context="body"]
If you lean toward scoop-neck tops, this bralette is for you. The adjustable feature makes this bra customizable for the perfect fit. Just know that the straps of this bra are more visible than those of the V-neck option—but still far less noticeable under tight shirts than an underwire bra would be.
If you're like me, you'll snag both options of the Calvin Klein Invisibles Bralette because you'll likely be wearing them on the daily this summer.