"Call Me By Your Name" is getting a sequel, and Twitter has jokes about its name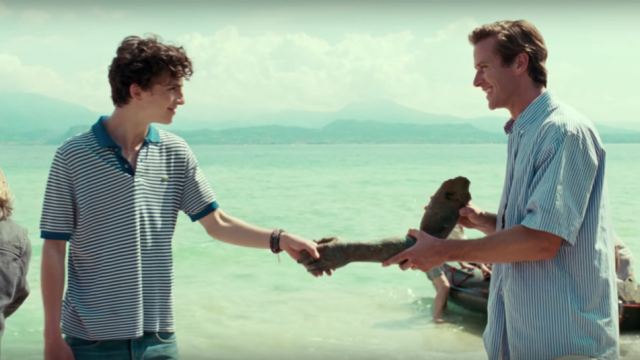 Never underestimate the creative spirit of Twitter. When fans found out Call Me By Your Name director Luca Guadagnino had confirmed a rumored CMBYN sequel on the Oscars red carpet, they didn't waste any time brainstorming potential movie titles for the already highly-anticipated follow-up. But as tender and sensitive as the Oscar-winning coming-of-age romance was, the growing online list of suggestions for the Call Me By Your Name sequel strike a slightly different tone.
Namely, they're pretty hilarious. This is Twitter, after all.
Guadagnino didn't give us a ton of details about what we should expect in the Call Me By Your Name sequel, but he did tell USA Today that he's in the process of working with André Aciman, the author of the original novel, to develop the story's next chapter. The sequel will be set about five or six years after the events of the first movie, so around the early '90s, Guadagnino said. Oliver (Armie Hammer) and Elio (Timothée Chalamet) will be back, but instead of falling in love in scenic Italy, the pair will be adventuring elsewhere. "They're gonna go around the world," Guadagnino said.
He did not elaborate on what this new project will be called, much to the delight of wannabe movie execs everywhere.
But using what little info they did have — and the established rules of movie sequel names, of course — Call Me By Your Name enthusiasts (or just plain wordplay fans) offered their own pitches.
https://twitter.com/udfredirect/status/971571305249165313
false
Not everyone was crazy about the idea of revisiting Elio and Oliver's love story, of course (all these franchises can get exhausting, TBH).
But if the second Call Me By Your Name is anywhere near as lovely as the first, most people talking about it online seemed to be on board with the plan. Personally, we'll be extra down for another round of Elio and Oliver love if screenwriter James Ivory promises to rock his Timothée Chalamet look again during the following awards season (it probably brought him good luck, since he went on to win the Oscar for Best Adapted Screenplay).
https://twitter.com/udfredirect/status/971518862834524161
No word yet on whether the peach will be returning.