We need to call the Austin package bombings what they are: Terrorism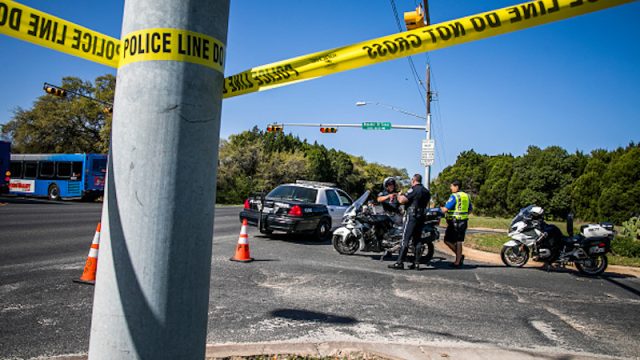 The search for a serial bomber in Austin, Texas ended this morning, March 21st, when the suspect set off a bomb in his car, killing himself as the police closed in. President Trump, who has been outspoken against terror attacks, shared a surprisingly weak response to the attacker's death via Twitter, naturally:
"AUSTIN BOMBING SUSPECT IS DEAD," he wrote. "Great job by law enforcement and all concerned!"
Six bombs had gone off in Texas since March 2nd, starting with a series of packages placed on doorsteps in east Austin, then escalating to a tripwire-enabled device left on the side of a road. Yesterday, March 20th, another explosive device headed to Austin was found at a shipping facility. The numerous attacks this month killed a Black man, Anthony Stephan House, and a Black teenager, Draylen Mason. Bombs also injured five others, almost killing a Latina woman, Esperanza Herrera.
The bomber, identified as Mark Anthony Conditt , was a 23-year-old white male raised in a "tight-knit, godly family," as a family friend described to The New York Times. Conditt killed two people and injured others with handmade bombs built with varying levels of sophistication.
false false
If you've only heard about these horrific events very recently, you're not alone. I've been talking to my friends via text, group chat, and Twitter — and many of them had no idea that, for the past three weeks, one of the most progressive cities in the United States has been struck by what are, in my opinion, terrorist attacks. So, why did it take so long to talk about this in national media? And even if we're finally talking about it now, why did it take weeks for investigators to announce there was a serial bomber in Austin?
***
There's an underlying story in the Austin serial bombing attacks, one that was conveniently brushed over at first.
When I read that the first victims came from prominent Black families, my first inclination as a Black woman living in the United States in 2018 was to not only question why there was minimal to no coverage — but to also wonder if our political climate and racist culture had found another destructive and divisive breeding ground in Austin, Texas.
The news coverage of the first bombing was riddled with racial bias. Anthony Stephan House, a 39-year-old father and project manager, was killed on March 2nd after a package left on his doorstep exploded. Police immediately described the attack as an isolated incident — one that the rest of the city shouldn't worry about. Initially, they didn't even call it a homicide — just a suspicious or accidental death. They even considered that the explosion may have been a "botched retaliation" following a drug raid in the neighborhood. Then, Assistant Chief Joseph Chacon shared that they couldn't rule out that Mr. House hadn't constructed the bomb himself before accidentally detonating it.
https://twitter.com/udfredirect/status/976430074676301824
The next bomb went off 10 days later on March 12th. This time, killing Draylen Mason, a 17-year-old college-bound Austinite who played stand-up bass in a mariachi band and was heavily involved in the Austin Soundwaves, a music education program for underserved kids in Texas. Like House, Mason was Black and living in east Austin, a place where gentrification has displaced Black and Latino communities. Then there was the eerie connection between House and Mason — Freddie Dixon, who was inside House's home when the explosion occurred, happens to be a close friend of Mason's grandfather, and both victims happened to be prominent fixtures at a historic local Black church.
https://twitter.com/udfredirect/status/973945339366420480
The third bomb nearly killed 75-year-old Esperanza Herrera hours after Mason was murdered, but authorities found that the bomb was meant for another address. Herrera remains hospitalized.
The fourth bomb injured two cyclists who rode over a tripwire on March 18th. The fifth exploded at a FedEx facility on March 20th before making it to its destination, causing increased anxiety around who the bombs were meant for.
Before Conditt was located, Austin Police Chief Brian Manley finally addressed the sinister nature of the serial bombings:
"We will have to determine if we see a specific ideology behind this...What we know for certain is: We have three victims that are victims of color, and we have three package bombs that have exploded on the east side of Austin," which, as aforementioned, is where many communities of color live.
After the news of two white cyclists being injured in the bombings, Trump finally made his way to Twitter to decry the bombings. Why did it take so long for a statement? Why, in a country where one of our president's favorite catchphrases is "terrorist" — in a country where that same president has repeatedly tried instituting a hateful, unconstitutional travel ban against Muslim-majority countries to "stop terrorism" — had he been so slow to talk about dying Americans at the hands of a serial bomber?
It's been proven that our country disproportionally covers stories about the victimization of Black people in comparison to their white counterparts. In fact, in the press, there are multiple reported instances of Black victims being discussed in a more demeaning manner than white perpetrators. false
Being Black in Trump's America is scary.
As the daughter of a Southern Baptist preacher, my mind often drifts to what happened in Charleston, South Carolina — the state I was raised in, and a city just three hours away from the ground my father's church resides on. My mind goes to Emanuel African Methodist Episcopal Church, to the place where white supremacist Dylann Roof murdered nine African-Americans.
But we don't label Roof a terrorist; instead he is a "classic lone wolf." We don't say that he was radicalized by this country. We don't define the murder of nine innocent Black Americans while they prayed as an act of terrorism.
What is happening in Austin shines a light on two questions that we as a country need to answer: Do you have to be white to be a victim? Do you have to be Muslim to be a terrorist? I hope the answer is no.