Caleb McLaughlin says he and Millie Bobby Brown "need each other," and we've never loved them more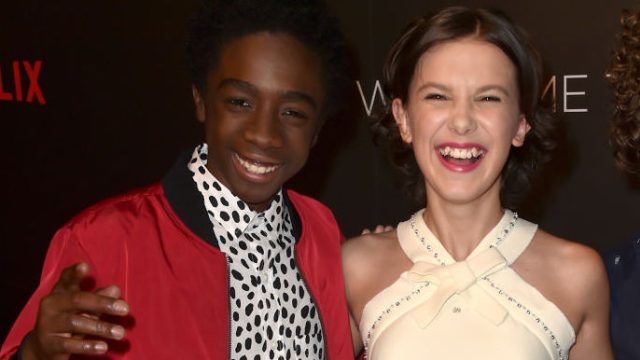 If we could join any celebrity #squad, it would be the Stranger Things kids' gang, hands down. Not only do they have an insane amount of talent, but they also have an insane amount of fun together. Whether they're performing a Motown medley with James Corden or dancing it out to "Uptown Funk," they're always the life of the party. And it's not just for show — the Stranger Things kids are very close friends IRL too. Who wouldn't want to be friends with Millie Bobby Brown, Caleb McLaughlin, Gaten Matarazzo, Finn Wolfhard, and Noah Schnapp?
McLaughlin recently opened up about his close friendship with Brown, and it's making us love them even more.
"I think we both need each other because we've both had the same experience of breaking out to this whole celebrity world together from the same show," McLaughlin told PEOPLE of Brown. "We get each other."
https://www.instagram.com/p/BaLvua9HbWg
Brown has been a big supporter of McLaughlin's social media campaign #EmbraceYourFace.
McLaughlin uses the hashtag to encourage people to practice self-love. Brown recently shared a series of videos on her Instagram Story supporting the movement.
"I'm human. I'm a teenager. I make mistakes. I get pimples. I get irritated by small things. I get hurt. I have emotions. I have feelings," Brown said. "And if you are happy in your own skin, if you truly love yourself, then you will love other people, and you will be kind to other people. And that's what's important. And that's what's going to get rid of hate. And that's what I stand for."
https://www.instagram.com/p/Bh0PHhuhpiw
Brown's support means everything to McLaughlin.
"I just love her for that. It was great to push it out there so people can hear more about it. People really need to just love themselves because no one is teaching people that."
https://www.instagram.com/p/Bh0YaDWAQS3
McLaughlin has nothing but love for his entire Stranger Things family.
"It's not just Millie, it's everyone on the show. We all understand each other."
https://www.instagram.com/p/BdqsJLBA5EX
We're totally here for this squad and can't wait for Season 3 of Stranger Things. We need it like they need each other!