Even if you don't have a big sweet tooth, you'll love these dessert-inspired products from this vegan makeup brand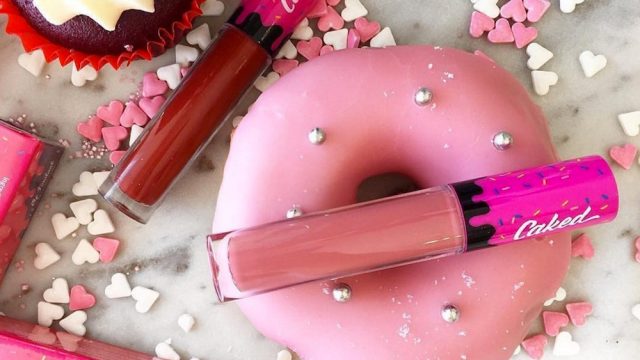 There's a delicious new makeup brand that will let you have your cake and wear it, too.
When it comes to makeup, "caked on" is usually considered an insult. However, Caked Makeup is a completely sweet antidote to that negativity. The young indie brand (launched Valentine's Day 2016) takes inspiration from street art, but their flavors are straight from the candy shop.
Founded by two Tampa, Florida-based sisters, Caked currently offers 12 shades of a "mousse-to-matte," long-wearing product called Lip Fondant. To prep for Fondant application, Caked suggests exfoliating with their Suga Suga scrub. All products smell and taste like delicious confections. Excuse us, we're drooling.
They smell like ::insert cake emoji::
Product descriptions on Caked's website include a "major key" tip. Of course, a Florida brand would rep for DJ Khalid himself. #BlessUp. Each tube retails for $16.
Caked's products are 100% vegan and cruelty-free. That's a challenge for an indie brand, but the company is PETA-certified, and says, "We don't test on animals, only boys." We fully support this philosophy.
Each Suga Suga scrub smells like its name.
The scrubs ($12 each) are made with real sugar and natural oils like almond and apricot. The Birthday Cake scrub even contains real sprinkles. The Cotton Candy flavor is currently sold out, so we're sure the others will move fast, too. Here's hoping for a speedy restock.
Caked Makeup is branching out into accessories, too, like travel-ready clear cosmetics bags featuring sassy illustrations of money bags and their melting donut "C" logo.
A see-through bag to stash your goodies.
Show the world that cake rules everything around you by copping one of these sexy pouches. You can snag them for $18 each or get the travel set for $30.
Just one of the mouthwatering Lip Fondant shades.
Well, our sweet tooth is tingling! Buy Caked Makeup online at caked.co, $12 to $30.