Buying Your Feminine Products at CVS Just Got Cheaper—But There's a Catch
This easing of the "pink tax" may seem great, but a partial win isn't an actual win.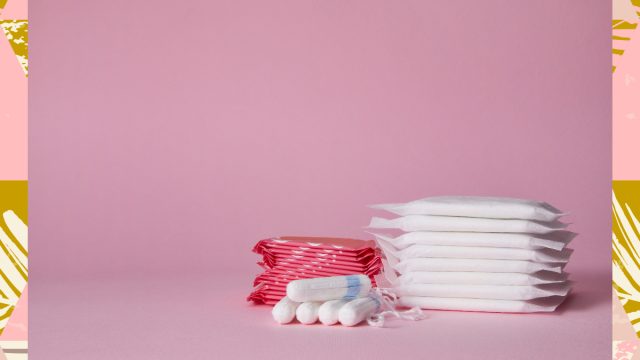 CVS wants patrons to know it's "here for women." As of Thursday, Oct. 13, the drugstore retailer is slashing prices on all CVS Health and Live Better menstrual products by 25%. This includes store-branded tampons, pads, panty liners, and cups as well as feminine hygiene products like urinary tract infection (UTI) medication and vaginal ointments. Customers can also shop pregnancy tests at a reduced price, too.
The price drop is part of CVS Health's initiative "to improve access to period care" by helping "support women's mental and physical well-being." Additionally, CVS is covering the sales taxes — commonly referred to as "pink tax" — on the aforementioned items.
"We don't think women should pay more than men for the same thing," the website reads. "That's why we've reviewed thousands of products to ensure similar items are priced equally, no matter who they are for."
There is a kicker: The tax break is only implemented in 12 states.
The tax relief will only affect customers in Arkansas, Georgia, Hawaii, Louisiana, Missouri, South Carolina, Tennessee, Texas, Utah, Virginia, Wisconsin and West Virginia. Some state laws refrain from allowing third parties like CVS to cover customer tax. In other words, this is why we can't have nice (or free) things. But, are we surprised?
It's also important to reiterate the price drop is only for CVS brand feminine products.
A calculated move or an olive branch? One doctor argues the price reduction is a marketing ploy to draw customers to CVS products and away from household brands like Playtex, Tampax, or Always.
Dr. Padmini Murthy, the global health lead for the American Medical Women's Association, tells CNN Business it would be more telling if CVS lowered all menstrual products on its shelves by 25%. "This move will highlight their commitment to addressing women's health and pave the way for reducing menstrual inequity, and not just to promote the use of CVS products," Dr. Murthy said.
CVS Health's initiative is a partial win for menstruating women, but the fight is far from over. In the meantime, you may want to stock up on CVS feminine products before they sell out.
Emily is a NYC-based freelance entertainment and lifestyle writer — though, she'll never pass up the opportunity to talk about women's health and sports (she thrives during the Olympics).
Read more