"Butterbeer Hair" is a new magical trend "Harry Potter" fans will love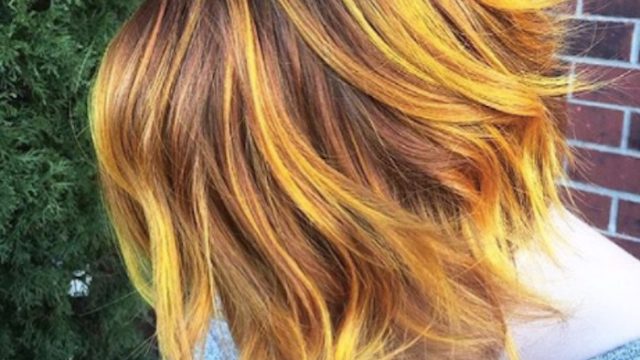 It's a true delight when interests intersect and form a magical union — and given that the crazy hair color trend shows no signs of slowing down, it makes sense that eventually we'd arrive at the merger of beauty and Harry Potter. Butterbeer hair, a term coined by our friends at Revelist, is a gorgeous amalgamation of red, yellow, and orange hair colors that pay homage to the Harry Potter universe's most beloved beverage.
In the past, we've seen Harry Potter beauty tributes in the form a Harry Potter makeup collection and Harry Potter fashion line, but the Butterbeer Hair trend leaves so much creativity in the hands of those who are looking to have fun with their hair.
One of the fun things about Butterbeer hair is that it's up for interpretation, meaning it can be as vivid and wild or as muted and romantic as your heart and personal style desire. Channel your favorite character's spirit and concoct your own version of this tasty beverage — either way, you'll feel like you just stepped into Hogwarts or are taking a stroll through Hogsmeade. One thing's for sure, this hair trend is not for the faint of heart — though we've yet to meet a Harry Potter fan who is.
Let's take a look at some of our favorite Butterbeer-inspired hair lewks:
This one is almost giving us Weasley vibes in the very best way, don't you think? There's no wrong way to participate in this trend, because Harry Potter and Butterbeer hair is for everyone.
https://www.instagram.com/p/BgAoxmWBgln
Not only is this woman's hair repping the Butterbeer trend, but it's also a pretty clear Gryffindor shoutout.
And remember what we said about being as subtle as you want? This style is one of the more subdued of the bunch, color-wise, but is still just as luminous as its namesake.
This is also a more natural version of Butterbeer hair, with champagne shades mixed in with a bit of caramel for that delightful frothy shade.
No matter which end of the spectrum you're more comfortable with, Butterbeer hair is within reach for any Harry Potter fan who desires it.
Even if it's not a trend you'd ever hop on, we can all admit that this is one hair color that our dear friends at Hogwarts would approve of.