Busy Philipps' Birthday Post for BFF Michelle Williams Will Have You in Tears
And those throwback pics? Too much.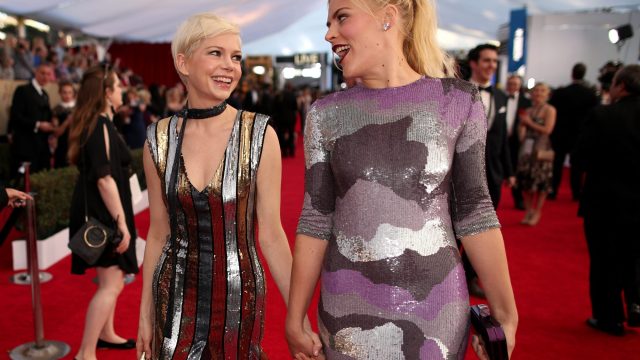 When it comes to celebrity BFFs, few pairs have our hearts quite like Michelle Williams and Busy Philipps, who have been best friends ever since they starred on Dawson's Creek together in the early aughts. From their glamorous red carpet moments to equally gorgeous social media selfies, these two never fail to bring us so many warm and fuzzy friendship feels. Philipps' Instagram tribute to her bestie on her 40th birthday might straight-up make you cry, along with inspiring you to call your best friend to gush about how much you love them, too.
Philipps shared two photos of the two of them getting ready together in the bathroom, along with a throwback pic of Williams as a little kid, in honor of Williams' big day on September 9th. It's her caption that has us in our feels. "I love these pictures. Because it's just truly so us," she began.
"I can't believe my best friend is 40. We met 20 years ago, which makes no sense because we're still 27," Philipps wrote about Williams.
She went on to gush about her BFF, writing, "I really wish I could be with my friend tonight celebrating how special and incredible and brilliant she is." 
Due to the coronavirus (COVID-19) pandemic, it seems the pair are celebrating apart, but Philipps is missing her bestie. She noted that she'd love "to tell her in person how I'm eternally grateful that we met all those years ago," adding, "there's no one I'd rather weather all the storms with and celebrate all the wonderful things with and cry and cry and laugh and laugh and drink and not drink with. I wish we ALL could be with our friends and the people we love right now."
"But the thing that gives me hope (I guess) is that life is long," she added, "and there are so many more birthdays to come."
She then went on to discuss her dreams for their future together, and whew, we are officially in our feelings.
"I can't wait to be old someday with my friend and go to farmers markets in the countryside with her—my long grey hair parted in the middle and pulled tightly back in a bun and she in some giant sun hat, protecting her still perfect porcelain skin," Philipps wrote. "And then we, two old ladies who met when they were girls, jokingly will say to the lady farmer selling us oranges 'you won't believe this—we've been friends 50 years! Which makes no sense because we're only 40!' And then Michelle will turn to me and say (for the girl's benefit), 'well, I'M only 40, B. You're 41.' And we will look at each other and link arms and laugh."
Philipps ended her post by sending her pal birthday wishes. She wrote, "Happy birthday, M. I love you." Of course, we also hope Williams had a fabulous day—we love how much these two love each other, so please no judgments if we're over here crying just a little bit.