Busy Philipps clapped back at naysayers who thought Health magazine photoshopped her moles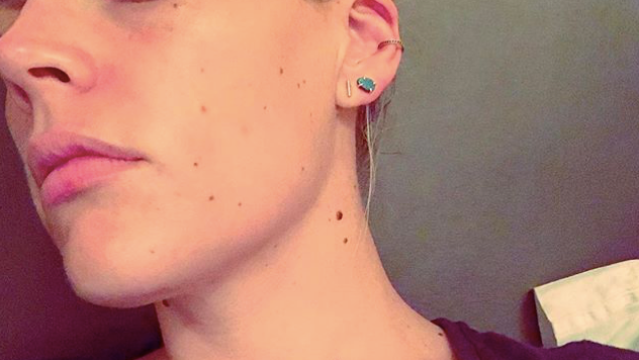 Busy Philipps is Health's latest cover star and she slayed the photo shoot in a red bikini and a Ban.do "anxiety" necklace from their mental health awareness collection. While there are many reasons to celebrate this cover, the comments section had a few not-so-nice things to say, because of course they did. Some naysayers thought the magazine photoshopped the moles from Philipps's face, but the always body-positive Philipps quickly shut that argument down.
A commenter wrote, "I just wish they didn't Photoshop all the beautiful beauty marks that make you who you (are)," to which Philipps responded: "They didn't and actually that was discussed. The light was super bright which is why they look less dark, but they did NOT airbrush off my moles. Promise you. I can show you the pics from the monitor at the shoot — it's truly just the bright light making them a little lighter."
Philipps also did an IG takeover for the magazine where she literally revealed the raw photos from the day of the shoot to prove that the finished images are nearly identical to the un-retouched images.
"I saw all the shots on the day and we discussed that they for sure not Photoshop any moles off. As you can see, most of it is lighting and angles," she shared alongside images from the shoot.
https://www.instagram.com/p/BkAwLxKB7xq
Here's the thing, Philipps has always been vocal about her body and can't understand why anyone would have any issues with a few moles. She once shared an anecdote about a network executive who demanded she cover her moles with makeup and how insulted she felt.
"I once got a TV show and apparently the network told the producers to have makeup COVER ALL MY MOLES," she wrote. "Do you know that 1. That's literally almost impossible? 2. Moles covered with makeup look WAY weirder than when they're natural? 3. It's super insulting cause it's basically like saying, we ALMOST think you're pretty, if you just got rid of this major part of what you look like."
https://www.instagram.com/p/BO_ed47AY4K
After going through that, we highly doubt she'd let a magazine photoshop the little body details that make her so unique.