Burger King just released a donut burger and we are… intrigued?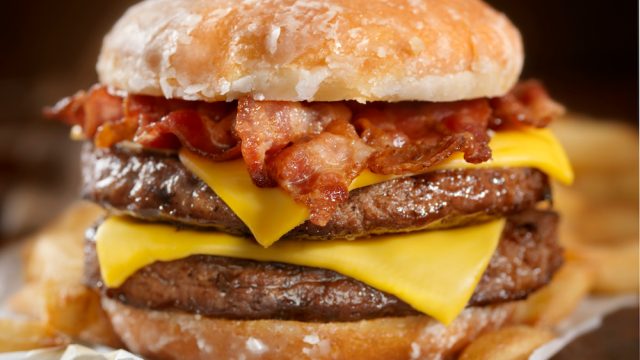 There have been some pretty memorable fast food announcements this year, like when Burger King said they were bringing back their famous cheesy tater tots. BK has something a little different coming to their menu, though, and we must say we're curious AF. From December 25th to January 1st, the Burger Kings in Israel will be offering something called the SufganiKing.
The SufganiKing is being released in celebration of Hanukkah, the seasonal Festival of Lights in the Jewish tradition, which is a time when many jelly-filled doughnuts called sufganiya are eaten by those honoring the holiday. Sufganiya is pretty much what it sounds like — a fried, greasy, delicious doughnut filled with jelly.
BK is putting its own spin on sufganiya, though, and the buns on the SufganiKing are fried doughnuts filled with ketchup. Yep, ketchup. Everything in between the doughnut buns is what you would find in a typical Whopper — beef patty, mayo, lettuce, tomato, pickles, sliced onion, etc. It's just that, you know, the buns will be doughnuts, people.
In the Facebook post that revealed the SufganiKing, BK says this burger "proves that miracles still happen," and we can't help but agree. If you need us, we'll just be sulking in the corner about the fact that the SufganiKing isn't made available to us in the U.S…Anyone up for a trip to Israel?