Burger King asked Wendy's to prom, and Wendy's had the best, most sassy response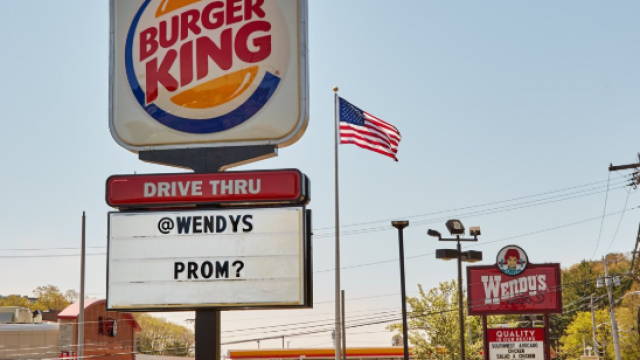 Our hearts (and stomachs) are full of joy today. We just learned that our two favorite fast food joints are officially headed to the high school dance together — yes, that one. Burger King asked Wendy's to prom and…she said yes!
On May 9th, a Burger King location in Lynn, Massachusetts popped a public promposal to the Wendy's restaurant next door. The official Burger King Twitter account tweeted a photo of the signboard promposal in hopes that the Wendy's account would reply. The entire nation waited with bated breath to see how the notably saucy fast food chain would answer. With a Twitter feed filled with sass, we hoped Wendy's would go easy on the King.
Later that day, Wendy's tweeted back, "Ok, but don't get handsy and we have to be home by 10."
Book the limo, Mom and Dad…we've got a dance to go to. Tbh, we've been secretly shipping these two for years, so this is kind of a big deal for us. Not only do we believe Burger King and Wendy's are more than capable of winning Prom King and Queen, but we also think these two could easily score the yearbook "class couple" superlative.
And don't worry, Mr. and Mrs. Wendy's — your little nugget is in good hands. Burger King is the most respectful fast food chain we know.
Although most of the replies to BK's promposal have been congratulatory, not everyone is "over the moon" excited for the pair.
Let's just hope MoonPie doesn't start drama like he did at homecoming. You missed your shot, man.
Take lots of pictures, you two. We need something to put on the fridge.