We wish Burger King's April Fools' prank burger was a real menu item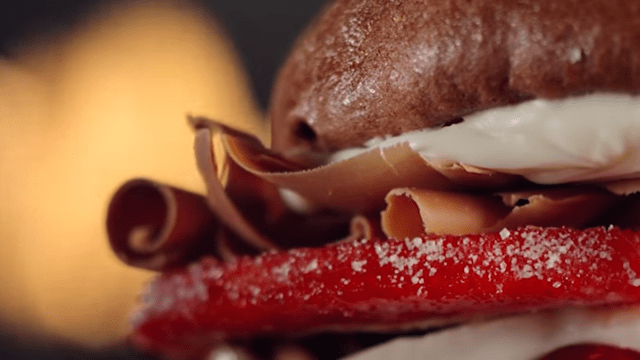 If you've noticed an influx of advertising for some very strange items online, beware: April Fools' Day is happening this weekend, and many brands are getting in on the fun by coming up with crazy new products as pranks. This includes Burger King, whose April Fools' prank burger looks so good, we wish it were a real menu item. And once you see the video, you will too.
Earlier this week, Burger King announced a new addition to its menu: a chocolate Whopper. In theory, this sounds weird and potentially even disgusting. A chocolate hamburger? It just doesn't seem like those two words should go together. But listen, hear us out, and give it a chance.
Once you see the video and hear what it's made of, you're going to want to run out to the nearest Burger King and demand a chocolate Whopper for yourself.
The chocolate Whopper is made up of a chocolate cake bun, a flame-grilled chocolate patty (unclear if this is meat or just… chocolate?), raspberry syrup masquerading as ketchup, white chocolate rings, chocolate pickle chips, candied blood oranges that could pass for sugary tomatoes, milk chocolate "leaves," and vanilla frosting. The result? A mouthwatering creation Burger King needs to add to its regular menu for real.
https://www.youtube.com/watch?v=nvGRWHQ5uMU?feature=oembed
So will you be able to get your hands on this at all? While it's very clearly a Burger King April Fools' Day prank, it seems like it might happen? At the end of one of the ads, a voice says, "Coming soon," and then whispers, "Maybe."
And a press release says, "Guests can only hope this delicacy will be available in restaurants and isn't just an April Fools' prank. Chocolate lovers will have to wait and see. Will they have it their way? Or will they keep dreaming?"
It's totally possible that this prank is just to get people into Burger King stores in search of a chocolate Whopper, which is a pretty good marketing strategy, to be honest. But we can dream, right? Maybe if we all demand a real chocolate Whopper, we'll got one. Who's with us?