A bunny has been riding the bus in London because he has somewhere to be just like everyone else, okay?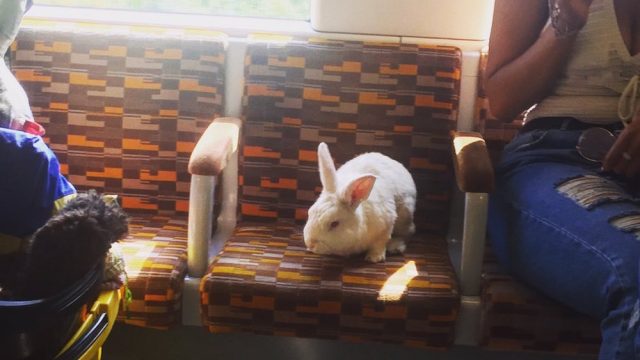 Ok, people. This is not a drill. Apparently, in London, a small white bunny has been hopping on and off the bus. And we can't help but speculate why and how this small animal ended up traveling around like everyone else. Is he going to work? Grabbing some carrots for lunch with friends? (Do bunnies really eat carrots IRL?) He certainly seems like a bunny with somewhere to be. But then, let's be real, we basically got distracted like everyone else by how freakin' cute this little bunny is. Can you even imagine? Hopping on the bus to find a cute little bunny sharing the seat next to you would definitely be the highlight of the day — or month, really.
But this bunny also reminded us of someone.
We couldn't help but notice his uncanny resemblance to the rabbit from the Disney movie Alice in Wonderland. After all, maybe he or she is "late for a very important date!" Aka… late for work. Bus is probably faster than just hopping along, right?
Over on Twitter, people have been similarly freaking out — and tweeting about their run-ins with the rabbit. Some were excited to spot him, and several were primarily concerned with whether the little guy made it home safe. Leave it to the British to always practice proper manners, even when dealing with small, fluffy strangers.
false
Others wanted to dispute any rumors that he may have been running late for an important date.
The good news? The bunny's home has been found, which means there's no real cause for concern.
Seems like business bunny doesn't need our help at all. Just… watch your feet where you're walking, okay?