Bump stocks have officially been banned in the U.S., but some groups are already challenging the decision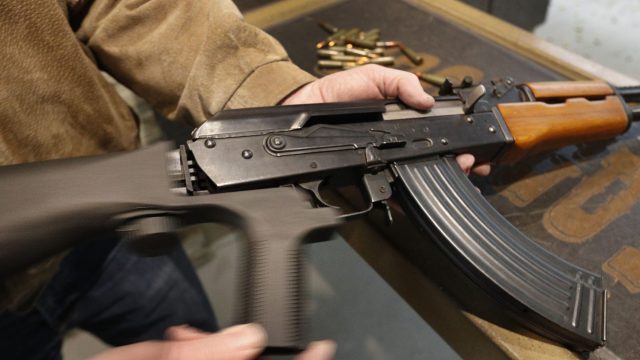 On October 1st, 2017, a gunman opened fire on a crowded music festival in Las Vegas, killing 58 people in the deadliest mass shooting in American history. Now, in its first major piece of gun control legislation, the Trump administration has banned bump stocks—a firearm attachment used by the Las Vegas shooter.
According to the Associated Press, Acting Attorney General Matthew Whitaker signed a regulation on December 18th that will make the firearm attachments illegal starting on March 21st. Gun owners will have until the ban takes effect to either destroy their bump stocks or turn them over to the Bureau of Alcohol, Tobacco, Firearms, & Explosives. President Donald Trump declared his support for a bump stock ban in February after 17 people died in a mass shooting in Parkland, Florida. After the regulation was signed last night, White House Press Secretary Sarah Huckabee Sanders told the AP that Trump was "once again fulfilling a promise he made to the American people."
CNN points out that bump stocks attach to firearms and enable shooters to press the trigger faster, mimicking the speed of an automatic weapon. The AP notes that, since these attachments are untraceable, it's unknown just how many are in circulation, but the ATF estimates that between 280,000 and 520,000 have been sold since 2010.
According to BuzzFeed News, three gun rights groups have already filed a lawsuit to block the regulation from taking effect. However, a Trump administration official told BuzzFeed that the department would "be ready to defend" the ban.
Even though it looks like this new regulation has a long court battle ahead of it, it still seems like a step in the right direction. That being said, outlawing bump stocks alone won't stop mass shootings. We need to keep fighting for common sense gun laws if we want to see a real change in American gun culture.