This empty Bumble claw game is a chilling metaphor for online dating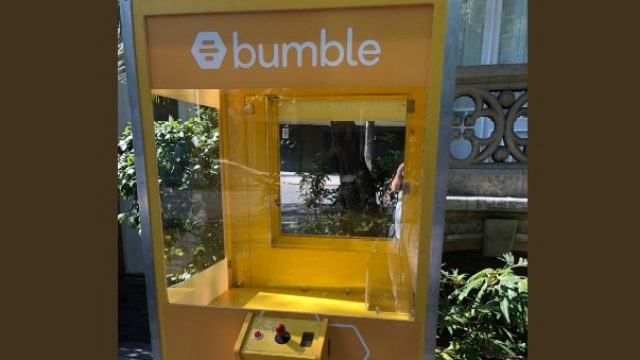 Online dating can be rough. Okay — more than rough. It can be frustrating, exhausting, and downright weird. And even though online dating apps are a dime a dozen these days, finding an actual connection sometimes feels as hard as trying to win something from one of those claw crane games at the arcade. You can put in as many quarters as you like, but actually grabbing onto something — and keeping — is rare.
That's why we're LOLing so hard (and also, sobbing?) at this now-viral tweet of an empty Bumble claw crane game. Twitter user Hannah Murphy spotted the game with absolutely nothing in it, and if you've ever used an app to try and find a love connection, you'll get it.
In her tweet, she wrote, "This bumble claw crane with no prizes is a chilling metaphor."
Again. LOL.
Tons of people responded to the initial tweet to wax poetic about the woes of online dating. Some users even edited the image to add something in the prize-less machine, while others just raised a digital hand to say how much they relate.
https://twitter.com/udfredirect/status/1002258492336439296
false
https://twitter.com/udfredirect/status/1002286992854482944
And Bumble even responded to Murphy, first looking for more details about the sad, empty crane game, and ultimately adding some Bumble hilarity to the mix.
As bleak as it all may seem, one Twitter user summed up the situation in the most profound, positive way, and we're giving them all the props.
Wow. Our hearts. It's too real.