Apparently bulletproof backpacks are on the rise in Florida, and this is not a solution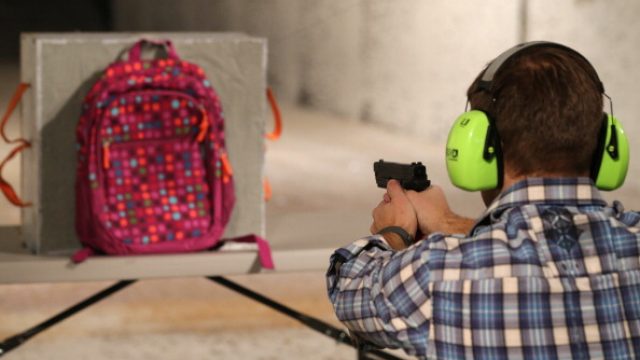 On February 14th, a deadly shooting at Marjory Stoneman Douglas High School in Parkland, Florida left the country reeling. And now, in Florida, sales of bulletproof backpacks have reportedly skyrocketed in the aftermath of the latest high school shooting.
According to TMZ, one company specializing in bulletproof backpacks, Bullet Blocker, saw its sales increase by 30 percent the day after the Florida shooting. The company's president, Joe Curran, told TMZ that most of the newly sold bags were shipped to Florida. Bullet Blocker's backpacks are lined with Kevlar and weigh roughly 4.5 pounds. The bags cost between $200 and $500.
Bullet-resistant school supplies have been around for decades. And after high-profile school shootings like the one in Parkland, companies often experience a dramatic increase in sales. In 2015, Curran told Marketplace that in the three weeks after the 2012 Sandy Hook shooting, sales of Bullet Blocker backpacks increased from 20 to about 10,000 weekly. And in November, CNNreported that a private Christian school in Miami had begun selling bulletproof inserts for students' backpacks.
Unfortunately, bulletproof backpacks don't offer complete protection from shootings. Even if worn on the front, backpacks still can't cover a child's entire body. And field tests of bulletproof inserts show that the panels weaken after several gunshots. Additionally, the lightweight Kevlar used in bulletproof backpacks like the ones from Bullet Blocker can withstand shots from pistols, but is not designed to block fire from rifles like the one used in the Florida school shooting.
As massacres like the one in Parkland seem to grow more common, it's become harder to feel safe from school shootings. While they might not work 100 percent of the time, it's understandable that parents would want to purchase school supplies fortified to keep their children safe. But giving every child bulletproof backpacks is not a feasible long-term solution. Regardless, we're saddened and outraged that the threat of gun violence at school has become so severe that there is a market for Kevlar-lined school materials. Parents shouldn't have to worry about their child's life being taken at school. Enough is enough. We need gun reform now.