We're obsessed with Bullet Journals, the newest and prettiest organization fad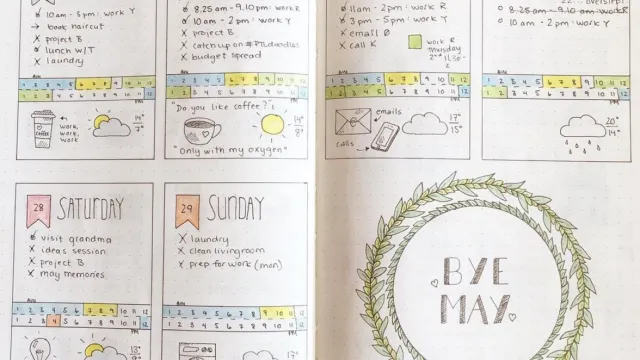 One night recently while I was getting ready to go to bed, I saw a recommended YouTube video titled "How I use the Bullet Journal system." The screencap was an open notebook filled with pretty handwriting and that was enough to get me intrigued. So I clicked the video, and before I knew it, hours had passed, and I had watched countless Bullet Journal videos. The next day, I bought a journal of my own.
So, you're probably wondering, what exactly is Bullet Journaling?
Bullet Journaling was created by Brooklyn-based digital production designer Ryder Carroll and it took off back in 2014 after the success of its Kickstarter. According to the website, it is a "customizable and forgiving organization system." The main components of a bullet journal are as follows: Index, Future Log, Monthly Log, and Daily Log, each filled with a series of symbols to indicate events, tasks, and notes. Each step gets you closer to specific goals.
The easiest way to get the hang of it is to watch this video below: https://www.youtube.com/watch?v=
After you've dedicated a page or two to your Index (which, when you start, will be empty), make your Future Log: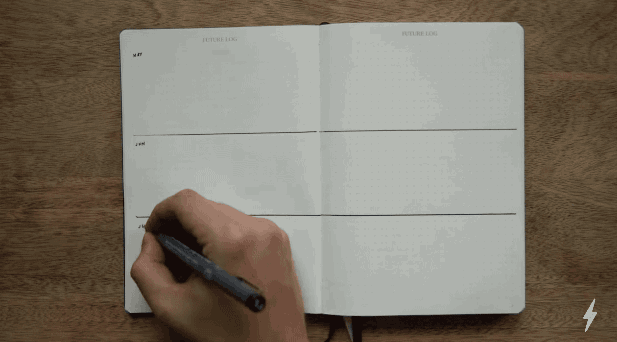 This is where you dedicate space to a handful of months at a time. You can put more general, broad goals, tasks, and events in this space. Then, add page numbers before going back and adding your Future Log to your index.
Then, we zoom in a little further: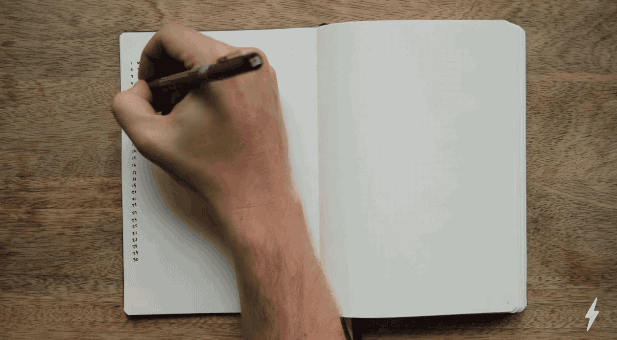 Your Monthly Log is where you zero in on a specific month, listing each day by date and the first letter of the day of the week. Then list any quick-hits, like birthdays, meetings, or parties. Add page numbers and record this month's Monthly Log in the index.
Finally, it's time for your Daily Log: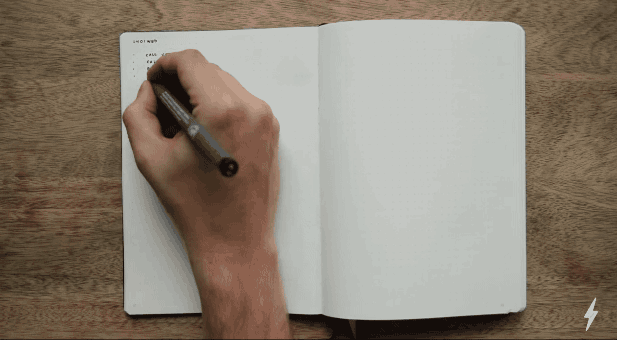 Take things a day at a time (or plan each day in advance!) and list any tasks, events, and notes. This can take up as much or as little of each page as you'd like, and when you've reached the end of the month, add the page numbers of your Daily Log to your Index. That's all you need to know!
While the bare bones of the Bullet Journal concept are minimal, a dedicated creative community has taken this method and turned it into something spectacular, transforming the mundane task of planning and organizing their lives into a quest towards self-improvement, filled with pretty handwriting and adorable stickers. Plus, your Bullet Journal can be embellished with anything from doodles, to washi tape, to scrapbooked memories, to literally anything else you can imagine.
You can add other sections to your notebook, like monthly challenges, habit trackers, recipes, lists — the possibilities are endless. Just make sure you add each addition to your Index so you can always find it once your journal is complete!
Need inspiration? Just look at some of the examples from the #bulletjournal hashtag on Instagram:
The best part about Bullet Journaling is that is can be adapted to any kind of notebook. You can get as fancy or as eclectic as you want, as long as you're having fun! I've been using my own Bullet Journal every day and I'm excited to see how it affects my productivity. Even more so, I can't wait to look back once it's over and see exactly what life was like, even just for a couple months.