"Buffy the Vampire Slayer" just turned 21, and Sarah Michelle Gellar celebrated with these rare BTS photos from the show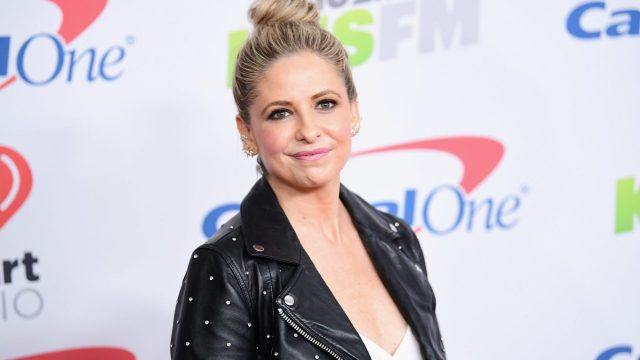 There will always be a special place in our hearts for Buffy the Vampire Slayer. Apparently, Sarah Michelle Gellar — who played the titular slayer during the series' seven-season run — feels the same way. The star recently celebrated Buffy the Vampire Slayer's 21st anniversary with a series of really sweet behind-the-scenes photos on her Instagram. And tbh, it's kind of got us itching for a TV (or movie) reboot.
Buffy the Vampire Slayer inspired such a dedicated fan base that even now, more than two decades later, people celebrate the show's premiere. This year, however, Gellar took note that the special occasion happened to fall pretty close to International Women's Day, something she incorporated into her Buffy tribute with a really touching and empowering Instagram caption.
It makes sense, considering the show has long been iconic in its depiction of strong female characters. It has inspired fans to embrace their identities in a time when queer representation on TV shows was still rare. From her post, it's clear Gellar recognizes and celebrates the importance of the show for all of us who grew up with it.
"I don't think it's a coincidence that the anniversary of #BTVS is the same week as #InternationalWomensDay," Gellar wrote. "I have always believed that the world is changed by your example, not by your opinion. We have all learned a lot from Buffy, and the best part is, that never ends."
YAS QUEEN.
She then shared a Buffy the Vampire Slayer quote that diehard fans are sure to remember:
"From now on, we won't just face our fears, we will seek them out. We will find them, and cut their hearts out one by one. There is only one thing on Earth more powerful than evil, and that's us."
Oh Buffy, how we miss you.
The behind-the scenes photos capture a lot of great moments from the Buffy set, featuring co-stars like Michelle Trachtenberg, Seth Green, and David Boreanaz.
If you're a dedicated Spike fan, don't worry. James Marsters is in there, too. Gellar wrote that she hoped some of the images were ones we'd never seen before. Scroll through her Instagram post and see if they're new to you!
We're happy to have followed along for seven amazing seasons. Assuming you're a Buffy the Vampire Slayer fan, there's only one question left: Are you Team Angel or Team Spike?