How to vacation like Taylor Swift (without all that Taylor Swift $$$)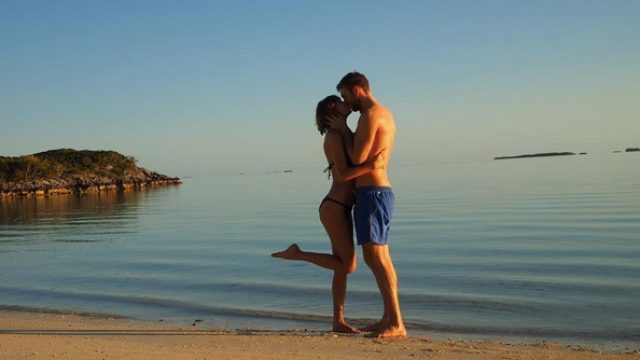 The moment Taylor Swift's adorable photos from her beach trip with Calvin Harris hit the Internet, we all had the same thought: we need a vacation. Unfortunately, we aren't all international superstars, so jetting off to a glamorous beach on a secluded island probably isn't financially feasible. But that doesn't mean we can't do something just as good!
We spoke to Jamie Beckman, senior editor at Budget Travel, for tips on just how easy it can be to get that perfect Taylor Swift Instagram-worthy vacation for a fraction of the price.
When it comes to budget-friendly getaways, it's all about location, location, location. "An easy way to get a beachy celeb-style experience for less is to head to the Caribbean or to Florida," Jamie explained in an email to HelloGiggles. "The beaches are beautiful, and they're easy to reach." The next step is just pulling out all the stops to land yourself an awesome deal on a flight, and that involves opening up your calendar and your mind.  "Having flexible dates and being open to all sorts of destinations is the key to getting a great deal," she advised. "One of my favorite tools to use to find cheap flights is Google Flights—just type in when you want to travel, and the general area you want to visit, and Google Flights will show you the least expensive flights to a whole area, like Florida, Mexico, or the Caribbean."
Broadening your options means you're much more likely to snag a deal. Rather than setting your heart on a specific beach, pick a wider area where you can't go wrong. "If you just want to hit the beach in Florida, you might discover that Jacksonville is cheaper to fly into than Miami," Jamie revealed. "After you pick a destination, Google gives little hints on how to save money on flights. For example, it might suggest that you leave a day earlier to save 50 bucks."
By rearranging and exploring options in your window of travel time, you'll find the sweet spot that gives you the best location for the cheapest price.
You'll be more likely to stumble across these deals if you sign up for email newsletters from major airlines, as well as follow them on Twitter. However, there are a few things to keep in mind before jumping right on a flight. "Discount airlines often offer insanely low fares, but keep in mind that some of them, like Spirit and Frontier, will charge you for extras ranging from bottled water to a carry-on bag, and flights might not have entertainment options like Wi-Fi or seatback TV screens," Jamie warned. "As long as you know that, though, you can plan ahead by bringing your own snacks and drinks, packing light, and downloading movies to your iPad or phone before you go." Just as important as the flight is the hotel, but Jamie has a better idea:
Hear, hear! Once you're there, the options are limitless, and a lot of good old fashioned fun doesn't require any money at all.
"What I love about Taylor's recent photos is that activities like going to the beach, posing in the water, and doing fun, silly things like writing your name in the sand not only make for great Instagrams, but they're 100% free," she said. "Some beach destinations, like Miami, Florida, even hand out free sunscreen to the public."
But if you are interested in getting a bit more adventurous, make sure you do some research in advance. "Beachside hotels and resorts often offer fun, photo-friendly extras like free bike rentals and the use of kayaking or snorkeling equipment," Jamie said. "So no matter where you're staying, ask about what's included." A little planning can save you a lot of money on activities.