Beyoncé's BTS photos from the making of "Lemonade" will continue to give you life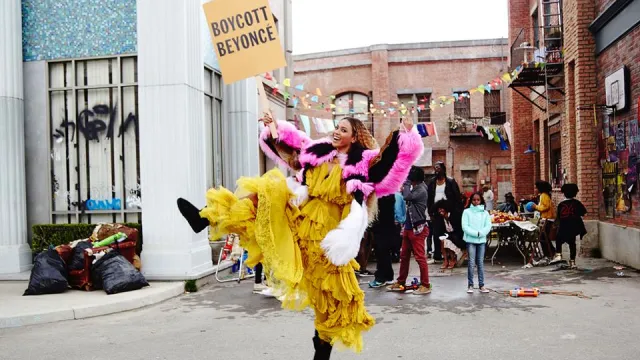 Beyoncé 's visual album, Lemonade, is the gift that keeps on giving. Over the weekend, our Queen blessed us with behind-the-scenes photos from the filming of Lemonade's visual component, uploading a massive amount of supreme imagery to her official site. You can find numerous photographs from each chapter of Lemonade on the page, and I highly suggest you scroll through the content in its entirety. But to get you started on your journey though these Pulitzer-deserving photographs, here are some of our faves:
This is straight up iconic.
Beyoncé first reclaimed the "Boycott Beyoncé " ridiculousness that followed her showstopping Super Bowl performance with her perfect tour merch. And now, we see Bey behind the scenes of "Hold Up," gleefully skipping down the street in her gorgeous yellow gown, middle finger up one hand, a "Boycott Beyoncé " picket sign in the other.
And The BeyHive has rightfully been praising the image nonstop.
#unbothered
From the filming of "Sorry," starring two goddesses.
Hey, Serena!!!
A queen at rest.
So much strength depicted in this image from "Love Drought."
In the words of Bey on her first visual album, ***flawless.
Power.
Boy bye.
Untouchable.
Art.