BTS just broke a huge record — and seriously, is there anything they *can't* do?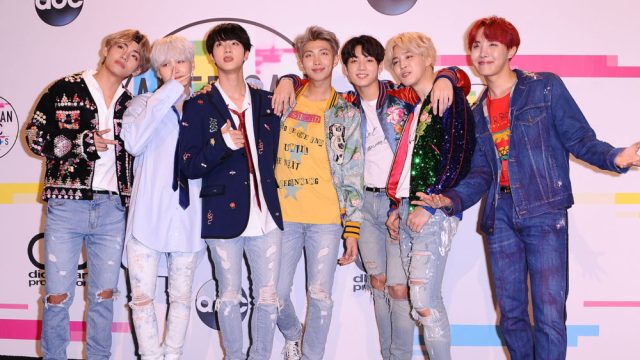 Is there anything BTS can't do? Aside from producing bop-worthy music, being fashion icons, and dazzling everyone with their live performances, the K-pop kings apparently also don't have a problem smashing world records. Not only did their single "Fake Love" launch at No. 10 on the Billboard Hot 100, the group's latest album, Love Yourself: Tear, debuted at number one on the Billboard 200 album chart, becoming the first ever K-pop group to achieve this feat.
"It's the first No. 1 for the seven-member group, and the first K-pop album to lead the tally," Billboard announced. The record garnered the equivalent of 135,000 album units on the week of the launch in the U.S. alone (!!), and 100,000 of that summation were purely in traditional album sales (!!!).
In an era when streaming supersedes downloads, CD, and vinyl sales, this is such an impressive accomplishment.
https://www.youtube.com/watch?v=7C2z4GqqS5E?feature=oembed
This marks the second time a K-pop album has cracked the Top 10 of Billboard's Top 200. BTS's 2017 album Love Yourself: Her debuted at No. 7 on the chart.
BTS's dedicated legion of supporters was quick to congratulate the group on Twitter. And apparently, South Korea's president Moon Jae-in is also a massive fan. He even took the time of day to write the band a touching message.
"Congratulations to the Seven Music-loving Boys and Their Wings, 'ARMY'!" the president wrote. "The songs, dance, dreams and enthusiasm of BTS energized and gave strength to young people around the world...Thank you to BTS for spreading joy across Korea and the world with your great performances."
The overwhelming support was not lost on BTS. The band took to Twitter to express their appreciation to everyone who has listened to the album.
At the rate they're going, it won't come as a surprise if the group breaks another world record in the coming days. Because in case you haven't noticed, this is BTS's world, and we're all just living in it.
Love Yourself: Tear is now out on iTunes, Apple Music, Pandora, and Spotify.