Why it's important that Bryce Dallas Howard got her Golden Globes dress from Neiman Marcus
When you think of a celebrity's outfit choices for the red carpet, you probably think of a celeb throwing open a closet that's approximately the size of your house and choosing the absolutely *perfect* dress from their collection of gowns. But actually, the outfits celebs wear to awards shows are very carefully chosen, and can actually be a business strategy for fashion companies and the celebrity. In fact, most celebs don't even buy their own dresses at all. And that's exactly why Bryce Dallas Howard's gorgeous dress she wore to the 2016 Golden Globes is so important.
Obviously, Howard's dress is absolutely stunning. I mean, look at it: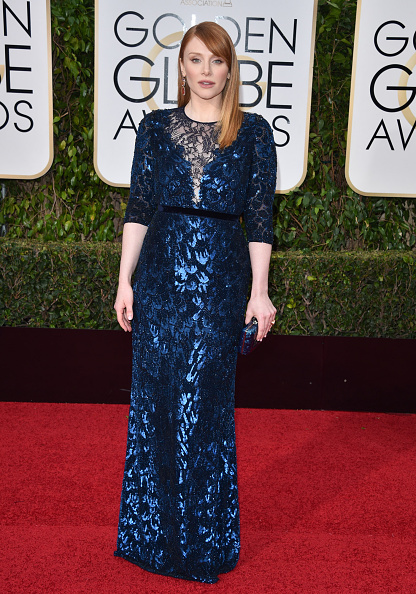 The color! The shine! The scalloped sequins! The lace! And she looks absolutely fabulous in it. However, it's not just the looks of this gown that have got us applauding.
When she was asked about the dress by E!'s Giuliana Rancic at the awards ceremony last night, Bryce explained that it wasn't handpicked as some sort of biz deal with a fashion designer. No, it was a dress she bought herself, and for a great reason.
"I just picked it up at Neiman's this week," Howard told Rancic. "I like having lots of options for a size 6, as opposed to maybe one option, so I always go to department stores."
In just two sentences, Howard turned around a typical "who are you wearing" awards show conversation to comment on the lack of options for women curvier than the typical size 2 who don't (and shouldn't have to!) fit the narrow standard of beauty set in Hollywood. Instead of settling for limited choices, she decided to buy her dress herself (and you can actually buy it here for $4,800), and we love her for it.
Of course, Howard isn't the only actress to speak out about the issue. Last year, Melissa McCarthy publicly spoke about the struggle to find a designer for her Academy Awards dress. "Two Oscars ago, I couldn't find anybody to do a dress for me," she said. "I asked five or six designers—very high-level ones who make lots of dresses for people—and they all said no." We hope this is a kind of dilemma that will one day be one of the past.
We applaud Bryce and Melissa both for refusing to settle for limited options in order to celebrate their beautiful bodies — and for continuing the much-needed conversation about body size inclusivity.
(Image via Getty Images/John Shearer; Getty Images/George Pimentel)