The magical $26 brush that every girl with bangs needs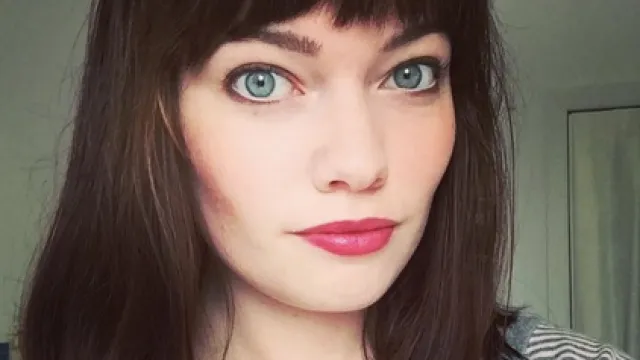 I can't even tell you how many times I've got bangs, only to grow them back out again because of their high maintenance. But ladies, this time is different. Because this time, I've found what I was doing wrong … and now, it only takes me a minute or two to style my bangs and head out the door (sometimes without even using a mirror)!
Hands down, one of my least favorite parts about having bangs was having to awkwardly handle a brush and a hair dryer at the same time. I have fairly fine, thin hair. Because of my hair type, I couldn't just blow-dry, or else my bangs would poof up and get all weird (think: '80s bangs). I had to control my hair with a brush in the other hand at the same time, and if I handled this process even slightly wrong, I'd have to wet them and start all over again. When you have as little coordination as I do, that can be a problem that only leads to a lot of cursing and VERY messed-up bangs.
But over the past few months, I've been using something magical. Something I didn't even realize that thousands of other bangs-ladies knew nothing about: a round brush that doubles as a hairdryer. *insert angels singing here*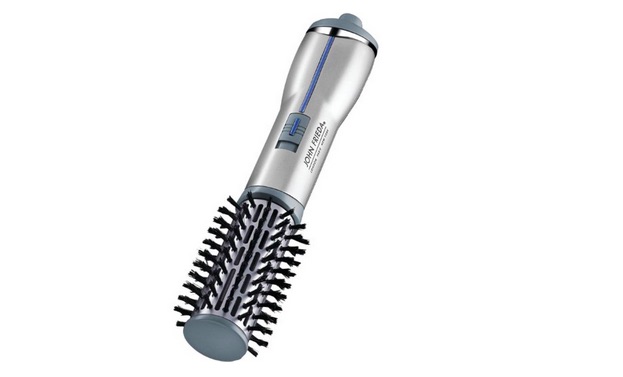 There are several hairdryer-round-brush combos out there, but I personally use John Frieda Salon Shape in 1.5-inch. It's only $25.99, and guys, it has saved me SO MUCH TIME in SO MANY WAYS. All you have to do is plug it in and (lovingly) attack your bangs with it for a minute or two right after the shower. Then, spray in some dry shampoo and hairspray, and voila: the bangs of your dreams in practically no time. But for your reference, I took some GIFs of the very quick styling process, meant for when your hair is still damp from the shower.
STEP ONE: After plugging in the brush, select your desired heat and intensity.
Personally, I go hot and intense, because go big or go home.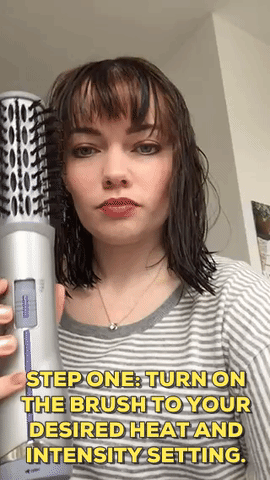 STEP TWO: Style!
The way you style will depend greatly on the kind of bangs you want and your texture of hair. If you want more rounded bangs that are off your forehead, for example, you could use the brush to lightly curl them. Personally, I just brush my hair from side-to-side, starting at the root, to ensure that my bangs are straight and don't get weirdly wavy.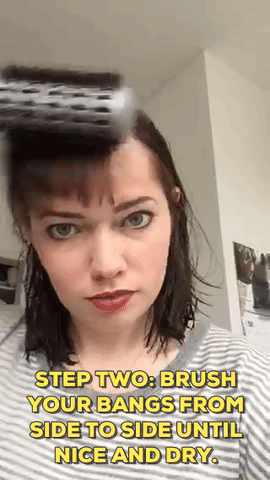 The weird, slightly constipated expression is not necessary. It's just what I do when I have a big prickly thing close to my eyes.
STEP THREE: Style the rest of your hair!
Yep, that's literally it for your bangs. All I do from there is spray some dry shampoo in my bangs (to ensure they don't get oily throughout the day) and some hairspray (to keep those babies staying put). But the great thing about this brush is that, if it works for your hair type, it can function as a way to dry your hair while styling it at the same time!
It takes me five to 10 minutes to dry the rest of my hair with the brush. Most times, I just brush it straight through to keep my hair pretty relaxed and low-key, but since that metal barrel heats up, you can use it to put some extra oomph in the ends, if you like.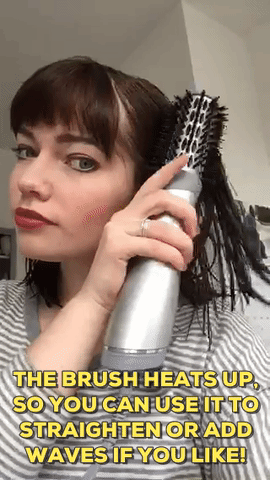 An added bonus? When you're going on a trip, you don't have to pack your big bulky round brush plus your hairdryer — just grab this baby and head out the door.
I achieved the finished product, pictured below, in 15 minutes, tops — with only one hand. The other hand is often used to drink tea while I'm styling, TBH.
This time, my bangs are here to stay, because I can be my totally lazy self. You can buy the magical brush on Amazon here. What a wonderful world.