A lot of people are really mad that Bruno Mars beat Kendrick Lamar and Lorde at the 2018 Grammys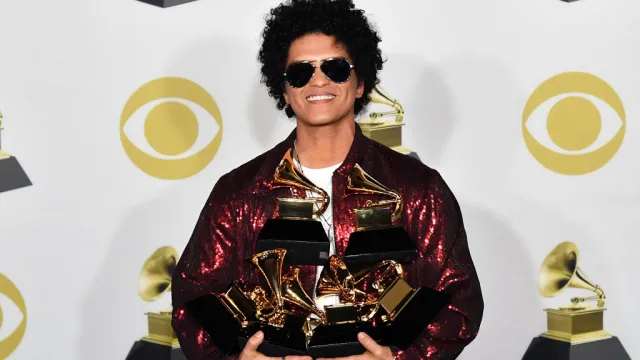 The 2018 Grammys was an exciting night of incredible red carpet looks, triumphant wins, emotional performances (yes, Kesha!), and empowering speeches (hey, Janelle Monáe). But every year, unfortunately, some artists are snubbed and overlooked. (How has Nicki Minaj NEVER won a single Grammy?!) And this year, fans are upset about some of the 2018 Grammys results. Specifically, the 2018 Album of the Year outcome. The award went to Bruno Mars for 24K Magic, a very worthy album indeed. But a lot of people disagree with the decision.
The 2018 Album of the Year competition was no joke. Bruno Mars was up against Childish Gambino's "Awaken, My Love!", Jay-Z's 4:44, Kendrick Lamar's DAMN., and Lorde's Melodrama. After Mars won the coveted award, many fans took to Twitter to share their outrage and why they disagree. A lot of them think the trophy belonged to Lamar or Lorde.
Bruno Mars has won 11 Grammys. In 2010, he brought home is first trophy for the song "Just the Way You Are." He picked up another in 2013 for Unorthodox Jukebox. There were two more in 2015 for Uptown Funk, and one in 2016 for 25.
At the 2018 Grammys, Bruno Mars cleaned up.
He won six Grammys in 2018: Album of the Year, Record of the Year, and Best R&B Album for 24K Magic, and Song of the Year, Best R&B Performance, and Best R&B Song for "That's What I Like."
Despite Bruno Mars' incredible talent, people are still mad that he beat Kendrick Lamar at the 2018 Grammys.
false
Many think that Lorde should have won Album of the Year over Mars too.
false
https://twitter.com/udfredirect/status/957834091482796033
false
While Lorde went home from the 2018 Grammys empty-handed, Kendrick Lamar still fared well. He won Best Rap Album for DAMN., Best Rap/Sung Performance for "LOYALTY.," and Best Rap Song, Best Rap Performance, and Best Music Video for "HUMBLE." We wish we could give EVERY talented artist a Grammy.