Bruno Mars just surprised Michelle Obama with the coolest gift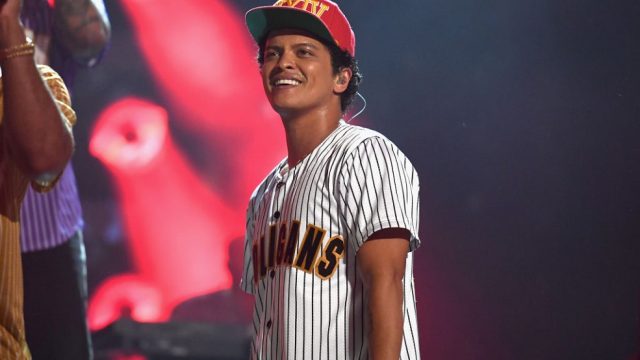 By now, we all know how much Michelle Obama digs Bruno Mars. Besides dancing to "Uptown Funk" on an episode of The Ellen DeGeneres Show awhile back, she also hosted the singer for a 2015 White House performance. It turns out that Mars was fully aware that Obama was planning to show up for his recent show at the Capital One Arena in Washington, D.C., since he came prepared with a very special gift just for her.
The former FLOTUS was in two shots on Mars' Instagram account, and she's smiling wide in each one. While one is a group shot with backing band The Hooligans, the other showcases the gift in question — her own 24k Magic-themed jersey.
"Last Night in D.C. Mrs. Obama came to the concert and blessed us with her presence ," Mars wrote in the adorably posed shot.
It looks like the meeting went so well that Mars officially added Obama to his squad. Cue jealousy from everyone else in the world.
https://www.youtube.com/watch?v=UZO5q0B5wfw?feature=oembed
No word on whether or not she busted out those aforementioned dance moves while watching the show, but we'd like to believe that she got pretty into Mars' incredible live performance.
Another thing we don't know (but would love to) is whether or not she was the only Obama in the audience, or if 16-year-old Sasha also managed to attend. Surely she'll think her mom's new wardrobe item is pretty cool.
In fact, the former first lady might want to hide this one from her daughters. And her husband too, if we're being honest.
Mars will be on the road until March 2018, and we're getting the feeling that his show is one you don't want to miss.