Bruno Mars just announced who will replace Cardi B in his 24K Magic World Tour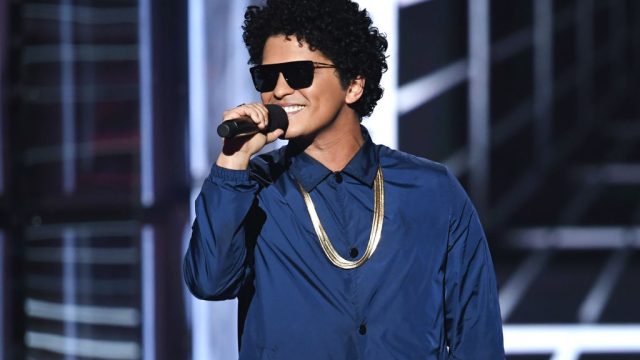 When Cardi B announced that she had to drop out of Bruno Mars' 24K Magic World Tour, fans weren't too shocked. After all, she did just give birth to her first child. Since then, ticket holders have been anxiously waiting to hear who will take her place. And now, we finally know. Mars announced who will be replacing Cardi B in the final leg of his 24K Magic World Tour, and we couldn't be more excited.
Mars isn't just replacing Cardi with one person—he's bringing on a whole bunch of his famous and talented friends. On Tuesday, August 14th, Mars made the announcement via Instagram that Boyz II Men, Charlie Wilson, Ciara, and Ella Mai would be coming on tour for select dates in the United States.
"I was trying really hard to make a cool tour poster once we got confirmation on who's joining us on the finale of The 24K Magic Tour," he wrote on Instagram. "But in my excitement I forgot I suck at arts and crafts. Swipe left for the official announcement…"
https://www.instagram.com/p/BmeazADg_Zv
Every artist won't perform at every single show. But there is a schedule in place so that fans know who they can expect to see.
According to Complex, Boyz II Men will be at shows in Colorado, Pennsylvania, and Los Angeles; Charlie Wilson will be at shows in Minnesota, Texas, and Los Angeles; Ciara will be performing in Toronto, Massachusetts, New Jersey, and Los Angeles; Ella Mai will be in New York, Tennessee, Oklahoma, and Los Angeles; and The Green & Common Kings will be in Hawaii.
When Cardi was still pregnant, she was optimistic about staying on the 24K Magic World Tour, assuring fans she would bring the baby along.
It wasn't until her daughter was born that she realized how tough that would actually be. In a heartfelt Instagram post, Cardi wrote, "I thought after giving birth to my daughter that 6 weeks would be enough time for me to recover mentally and physically. I also thought that I'd be able to bring her with me on tour, but I think I underestimated this whole Mommy thing."
But Mars was very cool about it, saying she was "absolutely doing the right thing" and promising to play "Bodak Yellow" every night in her honor.
https://www.instagram.com/p/Blt10TcAzbz
Although fans will surely miss Cardi's presence, it's clear Mars is doing everything he can to ensure the tour is still amazing. We're jealous of everyone who gets to see it in person.