Bruno Mars' "24K Magic" video is here and it's a throwback dream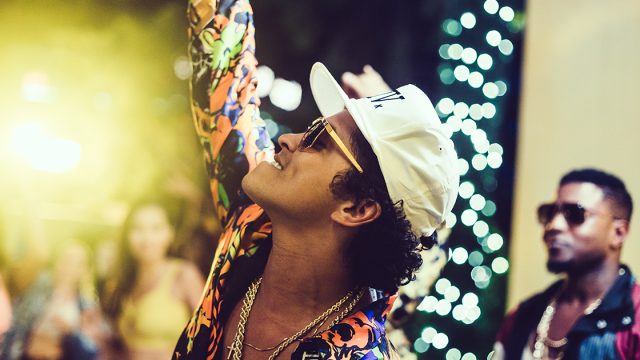 Yesterday (October 6th) we gave a rundown of everything you could expect from Bruno Mars' new music, and now our wishes have been granted: Bruno Mars is back!
His first solo music in four years, "24K Magic" (pronounced twenty-four karat magic) is everything we've come to expect from a Bruno Mars song. Like the singer's last album Unorthodox Jukebox and his collaboration with Mark Ronson, the ubiquitous "Uptown Funk," the track has one foot firmly in the past while updating vintage sounds with a modern twist.
While songs like "Locked Out of Heaven" paid homage to bands like The Police, "24k Magic" owes a lot to the hip hop and R&B of the '80s and '90s, in particular 2Pac and Dr. Dre's "California Love," Tom Tom Club's "Genius of Love," and Mark Morrison's "Return of the Mack."
Not only did Bruno Mars drop the funky song, which was produced by Shampoo Press & Curl, but he also shared the track's music video and it's a #throwback affair. The clip sees the singer and his usual band/dancing troupe living it up in what looks like old school Las Vegas strip. Complete with garish (but fabulous) shirts, amazing dance routines, and even a scene where Mars jet skis through the iconic Fountains of Bellagio, this is one amazing video.
https://www.youtube.com/watch?v=UqyT8IEBkvY?feature=oembed
That wasn't all the excitement, however, as Bruno Mars also announced that his new album was coming sooner than expected, too.
While we knew that the record was finished, the singer also revealed that his new album, also titled 24k Magic, would be out on November 18th.
Mars, who has played the Super Bowl halftime show TWICE (despite only releasing two albums so far), also revealed that he'd be performing on Saturday Night Live next weekend, on October 15th.
In a press release, the singer had the following brief but succinct thing to say about "24k Magic."
"You can call it my first single," he said, "but I call it the invitation to the party."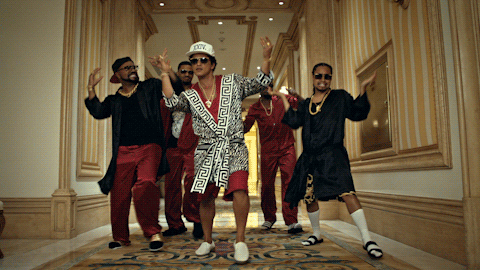 As PopCrush reported last month, Bruno Mars' bass player, Jamareo Artis, has said that his upcoming third LP would be "groove orientated."
"I don't know what's going to be included in the final version, but it's going to have a new sound, and so far the material is very groove-oriented," he revealed.
24k Magic is available to pre-order now. The album is set for release on November 18th.