'Brown Girls' is about to become your new favorite web series, and for very good reason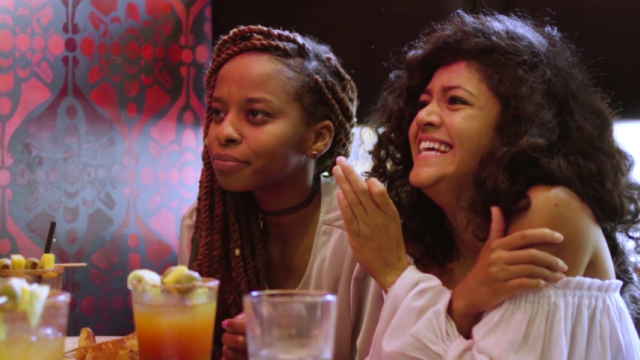 Brown Girls, the Chicago-based web series about two friends trying to survive their 20s is everything we didn't know we needed. Similar to shows like Broad City and Insecure, the series is centered around the friendship of Leilah (Nabila Hossain), a South Asian writer, and Patricia (Sonia Denis), a sex-positive black musician. The show is loosely based on the life of the creator, poet Fatimah Asghar. According to their GoFundMe page, the show follows Leilah exploring her queerness and Patricia "struggling to commit to anything: job, art or relationships."
Um yea, sounds relatable AF.
The best part about the show? There is so much girl and POC power in front of and behind the camera. The show's director and producer, Sam Bailey, wrote on the GoFundMe page,
"These characters represent people who are so rarely given a platform to explore their layers and complexities as humans. Fatimah's story is a love letter to brown and black girls and everyone needs to receive it."
She continued, "The crew behind the camera is also filled with queer, feminine, and/or brown artists. I believe that the production team should reflect, as much as possible, the story they're telling and I'm lucky to have put together a crew that does just that."
So much yes! We wholeheartedly agree and can't wait to support.
Watch the *fire emoji* trailer below.
Brown Girls is expected to launch March 2017. We are calling it: 2017 is gonna be the year for POC-created media.