"Brown Crayons" is a t-shirt brand that's filling a void in the girls' clothing category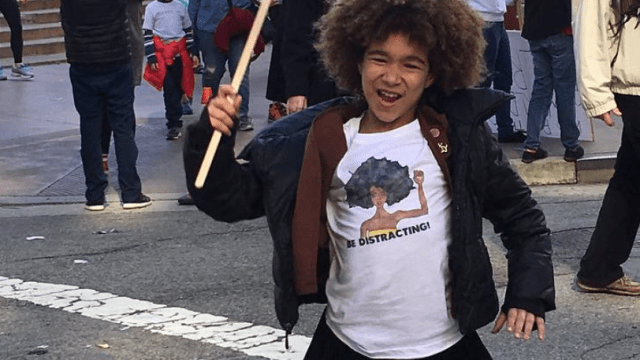 It doesn't take a lot of work to notice how whitewashed the fashion industry is. While this is changing, slowly but surely, we still have a long way to go before white stops being the norm and everyone else stops being the deviation. Thankfully, brands like Brown Crayons are filling the void in women's and girls' clothing — by showcasing beautiful, bold, brown women on their shirts.
The clothing brand was started by 3 women who noticed there was a niche to be filled in the fashion industry. With this in mind, the brand is reminding us that there needs to be more role models and clothing for all the beautiful brown crayons in the world (and that there need to be more brown Crayola crayons, too!).
According to the website,
"Brown Crayons was created to fill a white space.  There were no t-shirts we wanted to buy for our beautiful, brown girls that reflect who they are or who they can be — strong, powerful and authentic. So we made some. Be the change."
The shirts feature adorable and empowering illustrations of women; some are super-sheroes, some are skating, some are raising their fists with the words "be distracting" under them. Each features a woman who is both strong and powerful.
We're so used to seeing these sorts of shirts with white women on them. That's why, though the Brown Crayons tees may seem simple, they aren't for the girls who wear them and see them being worn. Instead, this fashion line is a reminder that no matter who you are or where you come from, you have every right to be a boss babe super-shero.
Appropriately called crayons, the girls who wear these shirts are encouraged to go out and color the world any way they see fit. With their imagination and the encouragement of Brown Crayons, we like to think there's nothing they can't do!