Congratulations internet, we did it — NBC has saved Brooklyn Nine-Nine from cancellation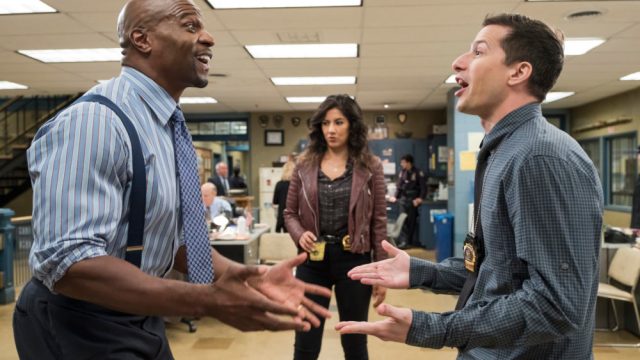 Roughly 24 hours after Fox RUDELY canceled our beloved Brooklyn Nine-Nine, an unlikely hero has swooped in to save the show. Yes, you read that right — Brooklyn Nine-Nine is officially *uncanceled* as of right now, and it's moving to a brand new home: NBC.
In the last few days, we've lost a lot of really amazing television shows to the great television show graveyard in the sky, but none of them hurt quite like Brooklyn Nine-Nine. The show was one of the best ensemble comedies on TV that boasted a hella diverse cast, both racially and sexually, and GUESS WHAT! It can CONTINUE to be one of the best ensemble comedies on television for the foreseeable future.
Late Friday night, April 11th, Mike Schur — the show's creator and executive producer, who is also the man behind some other amazing treasures like The Office, Parks and Rec, and The Good Place — tweeted out the good news with a dancing Sgt. Terry Jeffords. And since everything that is tweeted is true, at least when it comes from Mr. Schur, we can take this as real, like, really happening. Brooklyn Nine-Nine is back! 
As Schur continues in his twitter thread (that should probably go in the history books one day), the show was revived because the fans went "berserk." That's an understatement. Barely five minutes after word got out that Fox had axed the show after five seasons, Brooklyn Nine-Nine was one of the top trending topics on Twitter, meaning literally every single fan who has ever watched the show came out of the woodwork to praise the comedy.
According to TVLine, the show will be back for Season 6 with 13 episodes, which is 13 more episodes than Fox was going to make. We're all very blessed right now.
So see, next time your parents say that nothing good is ever accomplished on the internet, show them how, all together, WE SAVED BROOKLYN NINE-NINE. COMING TO YOU — hopefully this fall? — ON NBC.