Brooklyn Nine-Nine may have a #MeToo-themed episode next season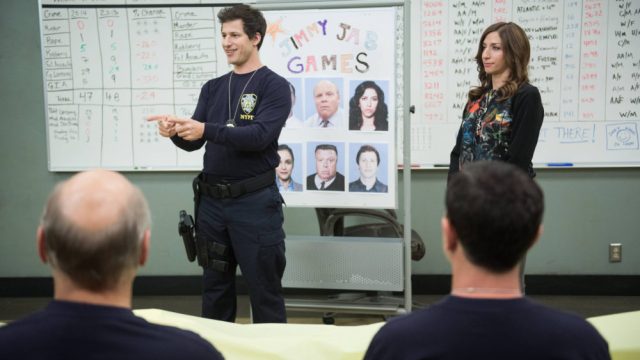 For about 24 hours back in May, it looked like we were going to lose the incredible cop comedy Brooklyn Nine-Nine, until NBC mercifully saved the show from cancellation. This meant that fans were guaranteed a Season 6 of the series, but sadly, it won't premiere until 2019. However, today, August 8th, we got some exciting new details about the upcoming season—including that a #MeToo episode could be on the table.
TheWrap reports that at a panel for the Television Critics Association press tour, executive producer Dan Goor said the creative team was "actively talking about" a #MeToo storyline for the upcoming season.
"I can't make a promise, but we're really interested in trying to do a #MeToo storyline," Goor said. "It's something that we're actively talking about in the writers room."
Andy Samberg, who plays Jake Peralta and is also an executive producer on the show, said that the Season 4 episode "Moo Moo," which focuses on racial profiling, took a long time to write in a way that satisfied everyone. He said that, similarly, there wouldn't be a #MeToo episode "unless we feel that we have the right take that is doing it justice."
With recent episodes like "Moo Moo" and Rosa coming out as bisexual, Brooklyn Nine-Nine has already proven it can handle sensitive, topical issues with humor and grace. And IndieWire reported that these episodes helped Terry Crews, who plays Sgt. Terry Jeffords, process his own sexual harassment. On the panel, Crews, who sued an agent for sexual harassment in November, said that he always felt supported by the cast. And while he didn't comment on the idea of a #MeToo episode, he shared his hopes for how the movement could change things.
"I really think this is just the beginning. I feel like this is going to be a new day. Now the town will be safer for my wife, my son, and my daughter," he reportedly said.
Whether Brooklyn Nine-Nine eventually features a #MeToo episode or not, we know that the show will continue to highlight important issues, and that's definitely something worth celebrating. Now, if only Season 6 would get here sooner.