Brooklyn Beckham didn't realize his family was famous until he was 13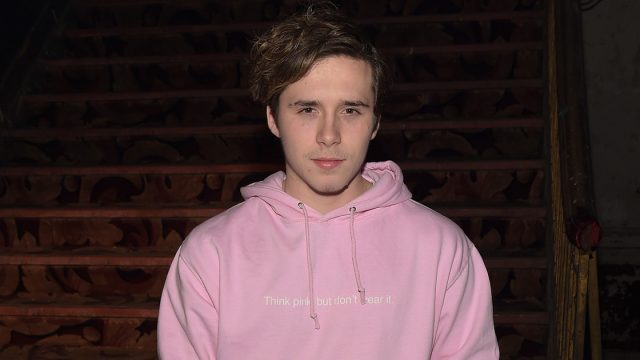 Raising a child in the public eye can't be an easy task, so it's totally understandable that Victoria and David Beckham hid the fact that they were famous from their eldest son, Brooklyn, until he was 13.
Brooklyn, who appears on the cover of the new issue of Wonderland magazine in a feature titled "Ain't a boy no more…," spoke about how, when he was growing up, he had no idea that his father was a sporting hero to millions and a soccer playing legend, and that his mom was part of one of the biggest pop groups of all time.
https://www.instagram.com/p/BQslGGJDg_Q
The 17-year-old would-be-photographer, who is set to release his first photography book this year, told how he didn't have a clue, in fact.
"I didn't actually know that they were big until I was about 13," Brooklyn said. "I went to a football [soccer] game and people were shouting my dad's name and I was like, 'What?! Oh my God.' I don't look at them like that.
https://www.instagram.com/p/BPAlsyjgKDJ
Brooklyn Beckham went on to say that, despite having famous parents, he hoped his photography book would prove that he was talented and more than just his parents' son.
"It's pretty exciting to put my work out there," he said, "and [to] show people that I'm not just doing it because of my parents are.
While on a recent family vacation skiing, Brooklyn suffered a broken collarbone after having an accident snowboarding.
https://www.instagram.com/p/BQn48Vhj_1A
Brooklyn isn't the first of the Beckham's children to head into the spotlight. Over the Christmas period, 12-year-old Cruz released his first song, the adorable "If Everyday Was Christmas."
We're wishing Brooklyn well after his accident, and hope he has a speedy recovery. What's more, we can't wait to see his photography book when that's released in May!
https://www.instagram.com/p/BQsk8juDE6B
Wonderland Magazine's Spring Issue is available soon.