A guide to workout clothes that are worth the investment, because there are way too many options out there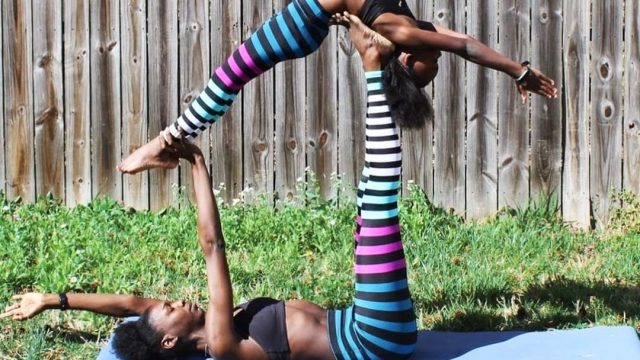 Whether you're a fan of exercising or you can't stand the thought of joining a gym, you probably have some workout clothes in your closet that you wear pretty regularly. Athleisure, which Merriam-Webster defines as "casual clothing designed to be worn for both exercising and for general use," has become wildly popular over the last several years, and it's an industry that doesn't seem to be going away anytime soon.
But finding workout clothes that are affordable, comfortable, and suit your style isn't always an easy task.
There seem to be a million options out there these days, and it's hard to know where to start, especially since so many brands are online-only and you don't get the chance to try on their leggings or sports bras in person.
As someone who has been teaching yoga for years and works out every day, I have my fair share of experience when it comes to workout clothes. I know what fits well and what doesn't, and I know which brands are worth dishing out the extra buck for.
So I've put together a little guide to help you navigate the athleisure world, because there's so much out there—and it's easy to feel overwhelmed.
For starters, remember that the material and quality of your leggings matter.
I get it, you're not exactly overflowing with cash. But even if you're trying to save some money, it pays to look closely at the material you're investing in.
See what those leggings are made of and how it feels on your skin and how well it moves with you. Because when your workout clothes are durable and comfortable, you won't have to dish out money constantly to replace them.
Go for spandex, lycra, polyester, or nylon. Although cotton is a very breathable fabric, try not to work out in leggings that are made mostly with cotton. They won't give you the stretch and movement you need when you're getting your sweat on.
Outdoor Voices is a fantastic brand for everyday workout gear.
You can find just about anything at Outdoor Voices—leggings, tops, one pieces, shorts, jackets. The clothes are classic but not boring, and the fabric feels like butter on your skin.
If you want to save some money, go with an OV kit, which you can build yourself. It may seem like a lot of money up front, but trust me when I say these clothes will last you a long time, and they won't lose their shape.
Carbon 38 is another high-quality brand that's worth the investment.
Some of this apparel is high-end, so the price tags might make you feel light-headed, but take a deep breath, because there is a lot of stuff from Carbon 38 that is affordable, especially if you look at the sale section. And I firmly believe that this brand is worth every penny.
The leggings are comfortable and form to your body extremely well. They also hold up great in the wash, so you don't have to worry about the quality deteriorating over time. Plus, Carbon 38 has a wide range of styles and patterns, and each of them are versatile enough to go with the gym clothes you already have. My favorite are the mesh stripe leggings.
Here's a little tip: Invest in a bodysuit from Carbon 38. You'll pay one price for an entire outfit, rather than just for one piece. You can wear it to yoga, to the gym, to the beach, even out to brunch if you style it the right way.
Shop at Liquido Active for super comfy pants.
You want workout clothes that will move with you as you move your body, and Liquido Active can offer you leggings that will do just that. I'm head-over-heels for the ultra high-waist leggings—the band makes me feel so supported. One pair will meet all your activity needs, and they will last you for a very long time.
Other excellent choices are Alala and Noli Yoga.
Nothing from either of these brands will disappoint, especially when it comes to pants, shorts, and sports bras. Noli has some of the most comfy bras I've ever worn (and I'm picky about my bras).
When it comes to yoga clothes, go for K-DEER.
I can't sing enough praises about K-DEER. Its leggings are like a second skin, and there are so many fun patterns. K-DEER always has a sale going on, too, so you can totally afford what it's got. Whether it's in a hot yoga class or a sweaty cycling session, their pants, shorts, and tops will carry you a long way.
Most important, think quality over quantity.
If you don't have any workout clothes you like or feel comfortable in, you're not going to get excited about exercising. After many years of trial and error—and many years of wearing old cotton leggings to the gym—I can confidently say that it's worth spending a little extra money now on high-quality stuff, because that's exactly what will save you money in the long run.
Keep in mind that when you shop brands like these, you have access to useful customer service, so if your clothes don't fit, they'll help you find something that does.
Get yourself all geared up, then get out there and move your body!