Abbi Jacobson gave us some ~juicy~ clues about what to expect from this season of "Broad City," and praise Oprah
After a very long wait, Broad City finally returned to Comedy Central last night with its Season 4 premiere (!!!). And there's so much more to look forward to — like seeing how these characters handle their mid-to-late twenties.
Abbi Jacobson — a creator and star of Broad City, along with Ilana Glazer — told HelloGiggles that this season proved more difficult behind the scenes, but she welcomed the challenge.
"This season was definitely harder for us to write and I think it's based on a lot of different factors coming together," Jacobson said. "But I really like that it's been over a year and a half, and the show and the characters have been living their lives. So we don't pick up where we left off and that was a challenge for Ilana and I on purpose to do that."
Why? Well, Jacobson and Glazer wanted to push the characters and have them to evolve with the passage of time. "We really want to grow the show with us," Jacobson continued. "We're getting older and so are they. It was just like a really good challenge to try and move these characters into their mid-to-late twenties."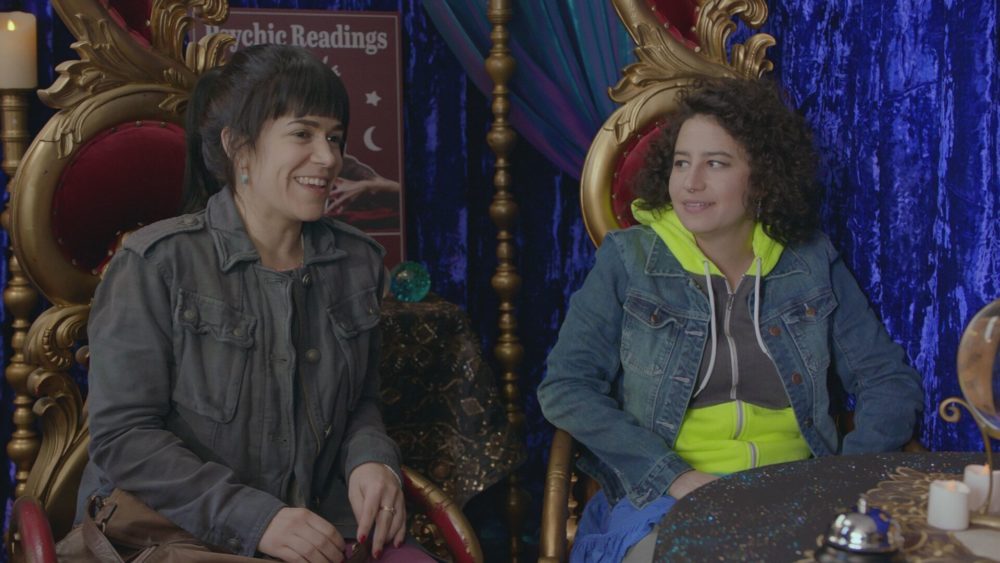 "Obviously, the funny is the most important part and I think it still is clearly the most dynamic part, but this season has a different tone," Jacobson explained. "It's [set] in the winter. It's definitely reflective of how we feel about the political climate right now. And it was a choice that we made because the show is happening right now."
"It always talks about pop-culture, and it would've felt weird for us to not really talk about what's happening right now," she went on. "I'm really proud of this season. I always just get so nervous about putting it out into the world. It's like sending my kids to college or something."
As for what Jacobson's Oprah-obsessed character, Abbi Abrams, will face this season, there's a lot of change (like, a new job!) and an existential crisis of sorts ahead.
"I really feel like Abbi is, and always has been, me in my early twenties. But because she's in her late twenties, there's more stakes now. It's sort of like, ''Well, what the fuck? What am I doing?' [That] kind of a mentality. We knew that that always had to happen on the show."
"When you move to New York, at some point I think you're going to have that happen where you're like, 'What am I doing with my life? Should I be here? How can I be successful, and what's important to me?' I think whether those things are specifically addressed or not, that's just sort of the underlying mentality of my character."
Broad City airs on Comedy Central on Wednesdays.