Broad City is ending after Season 5, and we're turning to Oprah during this troubling time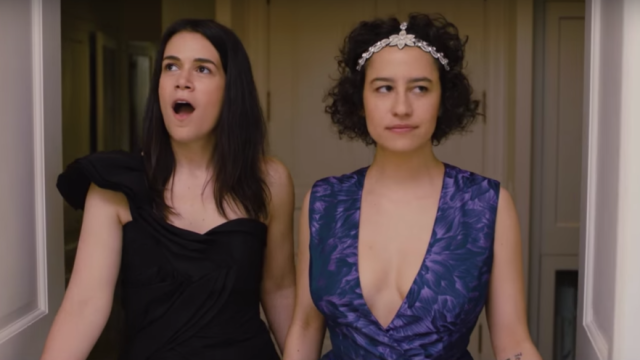 Hey Broad City fans, you may want to grab a box of tissues and sit down for this, because what we're about to tell you is the total opposite of Yas Queen. Ready? Here we go: We regret to inform you that Oprah enthusiast Abbi and BFF Ilana's crazy NYC adventures are coming to an end, because Comedy Central just announced that Broad City will not be renewed after its upcoming fifth (and final) season, which is set to air in early 2019.
"Broad City has been our baby and first love for almost 10 years, since we started as a web series," Abbi Jacobson and Ilana Glazer said in a statement. "It's been a phenomenal experience, and we've put ourselves into it completely. Broad City's always had a spontaneous pace and feeling, and ending after season five honors that spirit."
"We are very excited to bring new voices and points of view to Comedy Central and continue our collaboration together in new ways," the duo said.
And guess what people? Jacobson and Glazer — two creative geniuses, we must say — have signed a development deal with the network, and they currently have not one, not two, but THREE brand spanking new shows already in the works.
The projects in question are Mall Town USA, Platinum Status, and Young Professionals.
While the two won't be starring in said shows, they would work behind the scenes as executive producers. According to Deadline, Mall Town USA is an animated comedy that "follows the afterschool misadventures of a 13-year-old girl navigating the complexities of puberty and society in the classic microcosm of American culture that is The Mall."
Platinum Status, meanwhile, follows a backup singer named Noah, a gay man who has always felt like an outcast within his community. And when he abruptly gets dumped by his boyfriend of 10 years, he recuperates in an unexpected way: by hooking up with a girl. (Eliot Glazer, Ilana's brother, will write and star on the show.)
And last but definitely not the least, Young Professionals tells the story of David Litt, a 24-year old White House speechwriter, and one of the youngest in history to assume the role. Written and executive produced by the IRL Litt (alongside Jacobson and Glazer) and inspired by his own experiences, the show will introduce us to five friends who are all struggling to navigate and make a difference in Washington D.C.
And there you have it. While we're sad to see Broad City go, we're incredibly excited to tune into Abbi and Ilana's newest projects. We can't wait to see what they give us.