"Broad City's" Eliot Glazer tells us how the new season expresses political outrage through comedy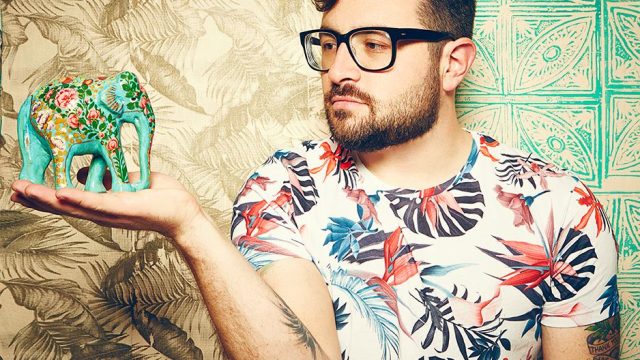 You may not think you know Eliot Glazer, but you probably do. He plays Ilana's brother on Broad City, and he is also Ilana Glazer's brother in real life. He's written for Broad City, Younger, and our very own co-founder Zooey Deschanel's show, New Girl. Among all the other projects he has coming out, one that you can see live is his bi-coastal show Haunting Renditions.
Eliot, a New Yorker now living in Los Angeles, puts on the show in both cities, and I caught his most recent show in Brooklyn. Haunting Renditions turns trash into class. The show takes terrible songs from our youth, and he and his band then transform them into jazzy/classical compositions. Watching Eliot perform is a hilarious surprise; most of the time, you're thinking, "Wait! I know this song. What is it?"  You start hearing lyrics that you didn't even know were in the song. Nostalgia clashes head-on with comedy, and it's fantastic.
I spoke with Eliot about writing on New Girl, all of his upcoming projects, and the new season of Broad City that premieres on September 13th.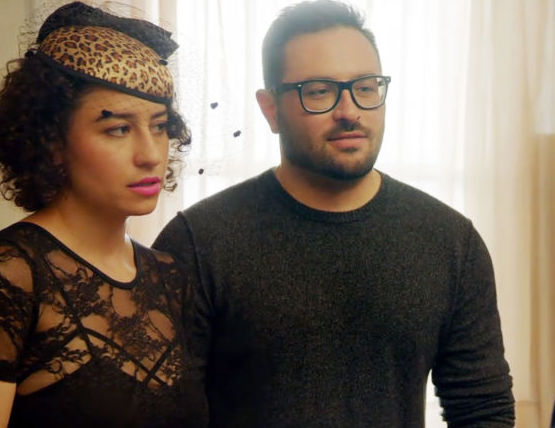 HelloGiggles: I've been wanting to go see Haunting Renditions for the longest time. You recently had an L.A. show with Pete Holmes and Mamrie Hart, and I was super excited to see your most recent show in Brooklyn with Taran Killam and Marina Franklin. It was hilarious, and I feel like it would work so well on TV.
Eliot Glazer: Thanks! Mamrie is actually a neighbor of mine. And Pete, Taran, and Marina were all amazing. We're working on it with a production company as a one-hour special to kick it off that way. To see what it would look like. We're in the early stages and have been brainstorming this concept for a while now. It seems like it would work pretty well on TV in the company of all these shows that are so based in music, like Lip Sync Battle and Carpool Karaoke. We're like, this is the time.
https://www.youtube.com/watch?v=hcqAfuNs94E?feature=oembed
HG: Speaking of Carpool Karaoke, guests are often shocked that James Corden is a great singer. Have you had any guests that surprised you with their vocal skills?
EG: Sasheer Zamata has a really nice voice. We sang "The Boy Is Mine" together. And John Early has a great voice too. I don't think you get to hear it enough, but he is a great singer.
HG: John is a great dancer too. I read that Maya Rudolph is one of your dream Haunting Renditions guests, which would be awesome.
EG: Ah yeah, she would be amazing. So wonderful and so musically adept. I've seen her with her band, Princess (a Prince cover band), and she's incredible. It's almost like a bonus that she's an incredible singer in addition to her comedy. Just impressive to me. I've always gravitated towards her style. Her ability to use her musical skill in her comedy, I think, is what makes her special. In so many ways, the novelty of musical comedians can get lost in silly parody. She is someone that can elevate the material into something much less predictable.
HG: She'd fit in so well with Haunting Renditions. I also saw that you're in the new trailer for Broad City. So excited to see you're back. Anything you can say about the new season?
EG: The show has such a devoted following, and the content of this season just sort of continues to expand in a way that is continually irreverent and weird and its own flavor. The political stuff this season is a really necessary take on what's going on. I think it will really speak volumes when it airs. Specifically, the episode that deals with Trump and how the election of Trump has affected my sister in that she can't orgasm anymore. The episode is about fighting him with feminism and activism.
As silly as it is, it's also moving, sort of surreal — and I know I'm biased, but damn, this episode really does give voice to the outrage that we need right now because I still feel like we don't see it enough. So that means if it has to come out through narrative fiction instead of op-ed columns, then so be it. If the newspapers and mainstream media can't get away with showing outrage and horror and disgust as much as they should, let comedy do that for them. Satire and comedy has suddenly become incredibly important again in a way that it hasn't been for a long time.
https://www.youtube.com/watch?v=UVxOI9pgchA?feature=oembed
HG: I'm really happy that Broad City is taking that on. You've written for Broad City, Younger, and New Girl.
EG: I've finished writing on New Girl. I'm going to be writing on the show, Teachers, on TV Land. I'm really excited. It's a funny show. Without having any sort of connection to the education field, I've always been curious about my friends who are teachers — what really goes on there? What is it like being in charge of these kids? Is it annoying? As a kid, you sort of just iconize or hate your teachers. Teachers really does humanize teachers in a way that's just hilarious and speaks to the uniqueness of this job.
I also just sold my own show to Comedy Central that is now in development as well. It's called Inside Voice, and it's about a professional backup singer reentering the dating pool after being dumped by his boyfriend. The show is sort of like a gay Curb Your Enthusiasm in LA. It's being executive produced by Will Arnett and Ilana [Glazer]. I'm really excited to dive into it. I think it could potentially be a groundbreaking show for the network.
HG: Yeah, more LGBT comedy needs to be on TV.
EG: Right? And I think, ultimately, I have always had a real struggle fitting into the gay community. This has become the most organic way to express myself…by actually shining a light up to the things that make me nuts. Things that are seemingly not allowed to be said aloud — especially by straight people. So I really want this show to spread the message through really funny, weird comedy.
HG: Out of all your writing, do you have a favorite episode? Something you were especially excited to see come to life?
EG: It was really fun to work on New Girl because I've never worked on a big network show before, and there was a huge writing staff of 18 people. It was like a sort of comedy writing boot camp. It was really intense and the people were incredible. The pace was nothing I'd ever experienced before. There's so much heavy lifting that goes into the process.
It was really exciting to actually see my episode come to fruition and air. To be received quite well was really enthralling for me. When you work on a show like that, with all these writers, it's very collaborative — a lot of jokes might get lost or cut. It's a really tough rule, but they always say you have to "kill your darlings" — meaning you have to let go of the connection to the jokes you love the most. For me, my story was the B-story. It revolved around music, and that so clearly represents what I do with Haunting Renditions... So being able to get that into the script and onto TV, without seeing many of the jokes changed, was so fun. (Watch Eliot's New Girl episode here!)
It was quite an experience that I truly loved. It was intimidating at first, but I fell creatively in love with every single person on that staff, and with the process, and with the pacing, and with the way people breathed comedy. God, it was just so much fun. Ultimately, they are doing a truncated season just to wrap it up, so it's a much smaller staff. It felt like a really fun senior year on this past season. Just honored to be a part of it.
https://www.instagram.com/p/BNN9rXwjr0I
HG: Where do you find inspiration for your writing and for Haunting Renditions?
EG: For Haunting Renditions, a lot of it comes from just nostalgia. When we choose songs for the shows, it's always fun to think back to nostalgia of the recent past. Like you just forgot about a Black Eyed Peas song, or you just forgot about an artist who…had one hit, [their] lyrics made no sense, and they disappeared. That's my favorite thing. I think it's more fun to pick a song [where] you're like, "Oh my god. How did I forget about this song? And why do I still know every single word?" …It hits you and you're filled with memories, and it's sort of an experience for the both of us.
HG: Anything else you'd like to tell HelloGiggles readers?
EG: We are doing a Haunting Renditions LA show at The Virgil in October, and our yearly holiday show back at The Bell House in December. And in the meantime, Broad City will be back, and I have a lot of fun scenes this year. We tape one or two episodes on location in Florida, and it's really special. I feel like I have my hand in a lot of different projects, and for better or worse, I'm hoping for one — if not more of them — to really be a hit with audiences.
Don't miss out on the next Haunting Renditions live show or Broad City's Season 4 premiere on Comedy Central at 10:30/9:30c, September 13th! Keep up with Eliot on Twitter, Instagram, and Facebook.