Brittany Snow just got married, and her long-sleeve wedding dress is aca-awesome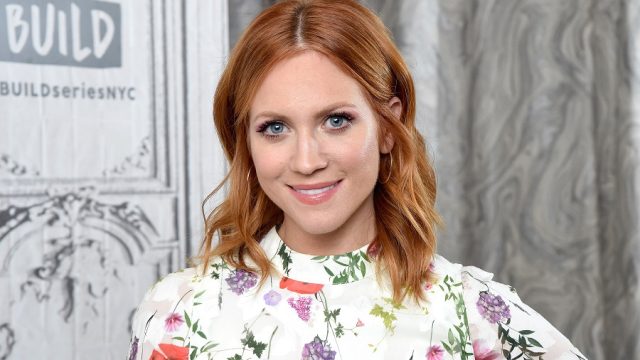 Congratulations are in order for Brittany Snow and Tyler Stanaland: The couple is officially married! After announcing their engagement in February 2019, Snow and Stanaland tied the knot in Malibu over the weekend, and we're California dreamin' over the low-key, romantic vibes of their celebration.
People shared an exclusive first photo of the newlyweds, including Snow's stunning, long-sleeved, lace gown by Jonathan Simkhai. The groom wore a classic black tux with black Converse sneakers, which totally tracks with the casual vibe it seems they were going for.
Last month, the Almost Family star hinted at what her dress might look like, telling People that she was aiming for "timeless, because if you make it too specific to a time, you're going to look back in 30 years and be like, 'Wow, that was really in 2020.'"
We'd say Snow certainly nailed those timeless vibes, and we can't wait to see more pictures of her bohemian dream gown in action.
As reported by The Knot, the pair had an "intimate outdoor ceremony" on Saturday, March 14th. And while we don't know too many details about their big day—including which of Snow's Pitch Perfect costars were on hand to celebrate with them—we do know reception featured plenty of tacos. That sounds like a wedding we're sad to miss.
Snow told People she wanted their wedding to be "low-key and not stuffy," including plenty of the best drunk munchies for guests to nosh on.
"There's definitely going to be tacos and other food that we like, the vibe is very comfort food," she said. "Everyone should feel like they just picked this up when they were drunk one night and wanted fried mac and cheese or whatever."
https://www.instagram.com/p/BuFDqFrHhH_
The couple officially started dating in 2018, when Stanaland, a realtor, hit her up on Instagram. (Yep, this romance started in the DMs!) But it seems like she was a longtime crush of his, thanks to her role in Pitch Perfect, and we're swooning.
"Britt was my unattainable crush forever," he told The Knot, adding, "I used to watch Pitch Perfect with friends and, 'Brittany Snow… One day.' But never thinking it would ever happen."
Seems he tried his luck, revealing that he "sent a direct message with the most embarrassing pickup line. A dad joke. I'm so surprised we're getting married."
https://www.instagram.com/p/B9hH_YflXH2
And the rest, as they say, is history. Congrats, you two! We can't wait to see more photos from the big day.