Britney Spears works out to her own music, and it's hot as ice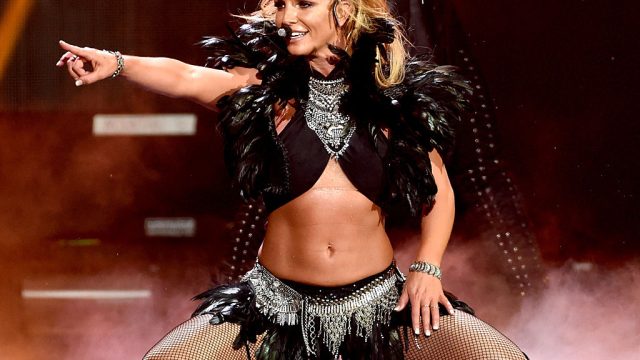 She's cold as fire, baby, hot as ice, and thanks to her iconic Instagram videos, Britney Spears is our ultimate workout inspiration. But her latest video just might be her best yet.
Britney is the queen of Instagram workout videos, but she's usually getting her fitness on to other artists' songs (like the time she was working out to Fergie's "Fergalicious"), so we were thrilled to see that the pop icon sometimes works out to her own music. Hey, can you really blame her?!
Brit's latest social media post showed her doing a series of yoga poses, intense strength training moves with a Kettlebell and dumbbells, and yoga stretches….all set to her song "Hot as Ice" from her incredible 2007 album Blackout.
https://www.instagram.com/p/BYHEmr8FfHV
She captioned the video "Beautiful day for an outdoor workout!!!" Honestly, we wish we had her enthusiasm for working out.
It makes sense why Britney would work out to her own music since she takes top billing on all of our ultimate workout playlists, and perhaps the song choice was a subtle wink and a nod to Blackout, which will celebrate its 10-year anniversary in October of this year.
In the video, Britney looked fiercely determined, keeping her game face on throughout, but her fun song choice was perfect for the occasion.
All we can say is, give us more, girl. Living legend indeed!