Britney Spears Ditches Her Wedding Ring and Hubby While in Hawaii
Britney Spears takes a vacation without Sam Asghari — but with former manager Cade Hudson.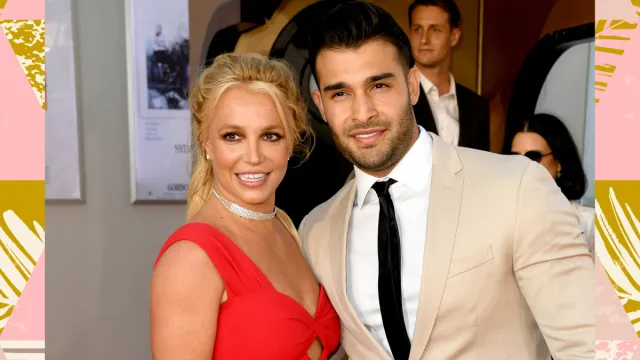 Rumors that Britney Spears' relationship is on the rocks are floating around as the singer has been spotted without both her wedding ring and her husband Sam Asghari. The pop legend has been posting from a vacation in Hawaii, where she's currently vacationing with friend and former manager Cade Hudson, while Asghari remains out of sight. That Spears is holidaying with the handsome Hudson in a beautiful, tropical getaway did have fans wondering about the state of her marriage.
RELATED: Khloé Kardashian Gets $7 Million Loan with Britney Spears' Shady Old Manager
Asghari marks husband #3 for Spears. The two got married in June 2022 at her Thousand Oaks mansion, a star-studded affair attended by A-listers such as Paris Hilton, Madonna, Selena Gomez, and Drew Barrymore. The "Crazy" singer has been trying to readjust back to normal life after her conservatorship of 13 years ended back in November 2021, and she's chronicled some of her relationship's highs and lows since.
The Daily Mail released several exclusive images of Spears on a plane runway in Los Angeles on Mar. 28, moments before she boarded a private jet. Her own Instagram posts show the "Gimme More" singer goofing off with Hudson inside the plane. And paparazzi photos captured the singer clumsily getting out of an SUV, clutching a teddy bear and wearing a plaid blazer and Birkenstock-style sandals – all without her wedding bling.
Eagle-eyed fans have also noted that Hudson's fly is down in the images and videos; some left comments on the posts before the option to comment was turned off by Spears.
Spears posted subsequent footage of herself enjoying a little sun and fun at a beach and showing off some skin-tight fashions in her Hawaii hotel room. It's easy to see the star's wedding ring – a simple but effective 4-carat round brilliant stone in a platinum cathedral setting – was absent.
Some fans, according to The Daily Mail, were wondering if the singer's marriage is in trouble. The last time she uploaded content onto her Instagram account where her wedding ring was present was back in January – she shared a new tattoo she'd gotten on a trip to Maui. Asghari was on the trip at the time, as well, though not featured as part of the clip.
Another throwback video Spears posted on Mar. 15 shows the couple enjoying a trip to Mexico. However, many have wondered if the singer was hinting to her feelings in the caption after less than a year of being married to the former fitness trainer and model.
"Throwback to Mexico 🇲🇽 … before I got married," it reads. "So happy and silly here 😜🤷🏼‍♀️😌 !!!"
Just days after Spears fled LA, Asghari was also spotted without his wedding band during an errand run near their Thousand Oaks mansion on Mar. 30. Media outlets speculated the significance of the ring's absence, but Asghari has since posted an Instagram story where the ring is clearly present. Still, it's unclear why Spears was living it up in beautiful Hawaii with her former manager but not her maybe-current husband.
Kat is a born and raised New Yorker exploring the world as she writes, eats, and everything in between.
Read more