Britney Spears Warns She May 'Stop Posting on Instagram' If Personal Allegations Continue
Amid overwhelming media attention and swirling rumors about her mental health, Britney Spears is ready to call it quits.
If you're a fan of Britney Spears's Instagram account, it may not be around for much longer. The mega-hit pop singer is ready to remove herself from the social media platform based on the most recent media frenzy, which involves intimate details between her loved ones and the need for a possible health intervention.
"It makes me sick to my stomach that it's even legal for people to make up stories that I almost died," Spears wrote in the caption of an Instagram post from Feb. 9. "I mean at some point enough is enough."
She follows these statements with a big warning if things don't change: "I'm probably going to have to stop posting on Instagram because even though I enjoy doing it, there's obviously a lot of people who don't wish me well !!!"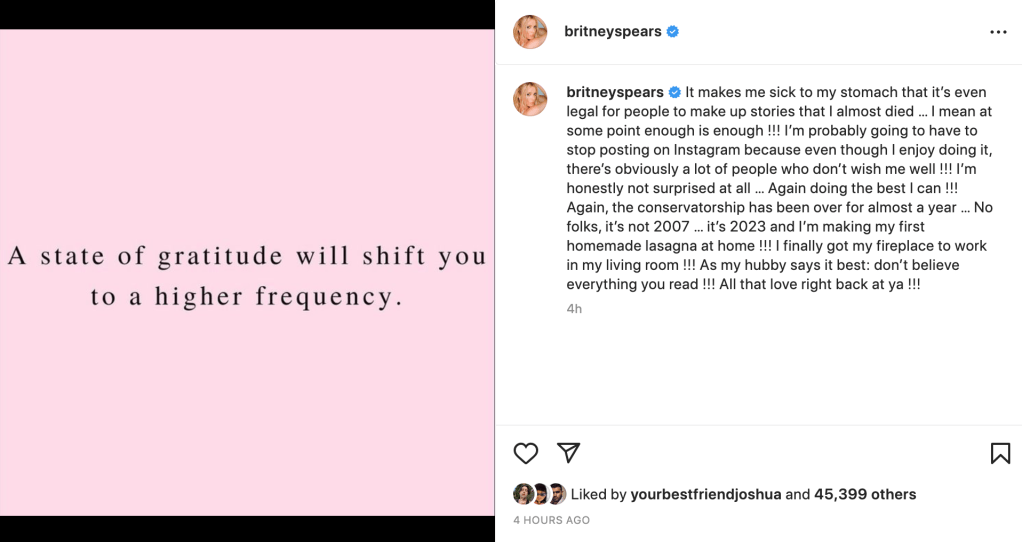 RELATED: Pamela Anderson Thanks Britney Spears For Her Support
The image is a light pink background with a simple text overlay: "A state of gratitude will shift you into a higher frequency."
Spears is known for taking breaks from social media, which frequently leads fans and media to equate her absence with issues related to her life post-conservatorship. During her most recent Instagram deactivation, some fans were so worried about her mental health that they even had local authorities perform a wellness check at her home.
The "Overprotected" singer has been trying to take back control of her life since the end of her conservatorship, which lasted 13 years. Adjusting hasn't been an easy process, and the star has struggled in many areas, including building a new home with her husband, Sam Asghari.
"It took us that change to realize and appreciate what we already had," the actor and former fitness trainer shared in an Instagram Story in early December 2022. It was a reference to questions he and his pop star wife often receive, inquiring why the couple moved back to her Thousand Oaks mansion a few months after she bought a new home in Calabasas, CA.
It seems as though Spears is really trying to do her best to share her growth with followers. "No folks, it's not 2007 … it's 2023 and I'm making my first homemade lasagna at home !!!" she added in the most recent Instagram post. She also explained that she learned how to make her living room fireplace start.
"As my hubby says it best: don't believe everything you read !!!" she continued. "All that love right back at ya."
Spears' response comes shortly after media outlets began reporting about an alleged intervention directed at the singer to help assist with some health concerns.
"One source in regular contact with Britney told TMZ, 'I'm afraid she's gonna die,'" the tabloid website reported, breaking news of the story early on Feb. 9. The site also stated that "multiple sources with direct knowledge" shared information that "people around Britney have become alarmed by her erratic, volatile behavior," based on issues related to her medication, mood, and more.
Other alleged details included a plan to "take an unsuspecting Britney" to a rented house for an intervention. Spears's manager, an interventionist, doctors, and Asghari "would be present, in an attempt to convince her she needed help."
However, additional sources spoke exclusively with Page Six, explaining that "concerned people in Spears' inner circle were in talks to try to get her to seek treatment on Tuesday" and that the plan did not go through "as it was deemed 'unnecessary.'"
The source for Page Six did reveal that Spears reportedly met with a doctor on Wednesday, and that "the meeting went 'well.'"
Another Page Six source stated that "Britney is fine, and much of this has been overblown and grossly distorted."
Kat is a born and raised New Yorker exploring the world as she writes, eats, and everything in between.
Read more