Britney Spears threw her sons a Pokémon themed birthday party and we're SO jealous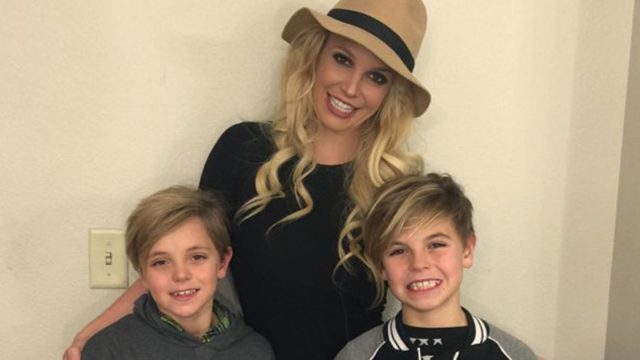 In the last month, Britney Spears has released her ninth studio album, Glory, performed at her Las Vegas residency, returned to the stage at the VMAs with G-Eazy, and has been on a promo trail that's seen her pop by various radio stations and grace the cover of magazines like Marie Claire and Flaunt.
If that weren't enough, the mother of two also found time to plan an amazing joint birthday celebration for her sons, Sean Preston and Jayden James and we're SUPER jealous.
Earlier this year, Britney revealed that her two boys were, like most of the world, obsessed with Pokémon Go, the augmented reality app in which you travel around and catch Pokémon.
Speaking to Ryan Seacrest, the 34-year-old pop icon explained how her kids had her travelling around malls on the hunt for the little monsters.
"[My kids] are addicted to it. They're constantly talking about it and I'm introduced to these new Pokémon everyday and they're way over my head," Britney explained. ""They got me to go shopping all over the mall to look for Pokémons. I was like, 'Well you know what, it's summer. We have nothing to do today. Let's go look for Pokémon!'"
Of course, then, it seems only fitting that for Sean Preston and Jayden James' 10th and 11th birthday Britney would plan a Pokémon extravaganza.
"Big bday for my boys!" she wrote on Instagram under a picture that shows her two sons surrounded by a plethora of Pokémon themed cakes and paraphernalia. "Double digits whoop whoop! ?" 
Okay, we're SO jealous of all those amazing looking cakes. The detail and effort that's gone into planning it all is just too cute. Also, can you believe that both Britney's boys are 10 and 11?!
During her epic turn in James Corden's Carpool Karaoke, Britney revealed that, actually, she wanted more kids now her two boys were so grown up.
"I want more, like, three more," Britney told James as the pair drove around L.A. singing some of her biggest hits, before going on to sing a part of Ace Of Base's "All That She Wants."
When quizzed by James about how she might have to find the right guy first, Britney retorted saying, "I think I might not ever go to men again. Or ever do the whole men thing again, or get married, I'm just done with men." 
This isn't the first time that Britney has sworn off men. During one of her amazing performances at her Las Vegas residency, "Britney: Piece of Me," the singer commented on how beautiful all the women in the audience looked before declaring, "Men, frankly, can suck my fucking toe." 
YASSS BRITNEY! You keep doing you, living your best life with your boys, and making some of the best music of your career. We support you 100%. Girl power.