Britney Spears really wants you to know that she can do a handstand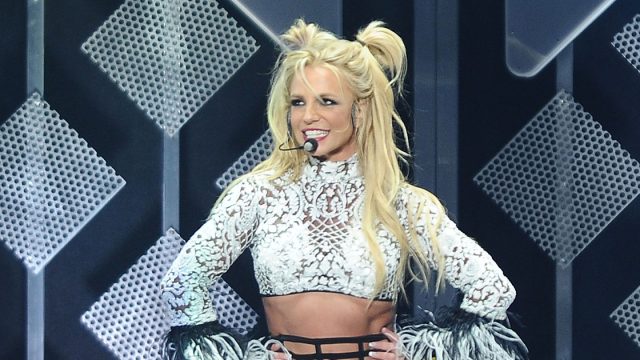 In between killing it in Las Vegas, being a superstar popstar, and a mom to two lovely boys, Britney Spears can do a handstand and she *really* wants you to know about it.
It's safe to say that we can't get enough of Britney Spears' social media presence. The star, who released her ninth album Glory last year, is constantly sharing the most adorable, funny, and eccentric pics and videos, and we absolutely love it. From sharing her work out vids, which are weirdly hypnotic, to letting us know that all she wants to do is go to Paris and shop (same girl, same), we'll always love seeing what Brit Brit is up to.
But it seems that Britney Spears really wants to show the world that she can do a handstand.
Taking to social media over the weekend, the 35-year-old mom of two was having some trouble sleeping. So, what do you do when you can't get to sleep? Well, we'll let Brit explain.
"What do you do in the wee hours of the night?... walk on your hands 😜," she wrote on social media.
Seriously, Britney really can walk on her hands.
Amazing.
However, this isn't the first time that Britney has shown her affinity for being upside down. The star has previously shared pictures of herself doing handstands, and to be fair she is really good at them.
Indeed, last summer she actually full on declared her love for handstands, and even shared a cute pic of her kissing her niece, Lexi, upside down.
We love seeing how active Britney Spears is, and seriously get such a buzz out of seeing all the funny and cute things she posts on social media. It's clearly a real insight into who she is and what she likes, and we love that. Further more, she's absolutely slaying those handstands, so keep 'em coming, girl!