Britney Spears only ate Lunchables, edamame, and Starbucks while filming "Crossroads," and now we love her even more
We can't believe it's been 15 years since Britney Spears made her movie debut! In honor of the 15th Anniversary of Crossroads, we're sharing a few things about the movie. For example, Spears only ate tuna Lunchables on set, which is SO random.
On February 15, 2002, Crossroads first hit theaters, and Spears made the move from pop star to movie star. The movie, which followed Spears' character Lucy, and her two childhood BFFs, Mimi (Taryn Manning) and Kit (Zoe Saldana), on a roadtrip is a total friendship classic.
The three girls proved that your friendships can have ups and downs, but ultimately your friends are going to last you a lifetime, and be there for the wild ride that is life. It is a serious must-watch at your next girls' night. Trust us!
In an interview with Broadly last year (our minds are boggled that we only just now discovered it), the film's writer, Shonda Rhimes, director Tamara Davis and producer Ann Carli talked all about the vibes on set and what they loved about making the movie.
One of the biggest things we learned is that Spears was NOT a diva on set.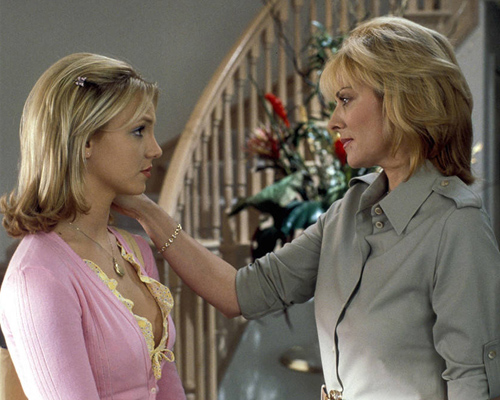 Davis recalled a story before they began filming, when the "Hit Me Baby One More Time" singer showed that she was NOT high maintenance.
"I knocked on her hotel room door, and she opened it up, and she was wearing, like, a little pink T-shirt and little shorts, and she was just hilarious," Davis told Broadly. "She opened the door and she was like, 'Man, I was hammered last night!' I was like, 'What! You're Britney Spears, and you were hammered last night?' She was, like, the funniest, really good girlfriend-y type of girl."
While she was really down to earth on set, she did have a strange food request or two while filming Crossroads.
Davis revealed that all she would eat was tuna Lunchables and edamame.
Spears would also ask to be picked up 30 minutes early for her call time so she could stop at Starbucks.
"She said, 'I don't mind. I actually like going in and getting to decide.'" Carli recalled of Spears' choice to get her own coffee every day.
Wait, so the princess of pop is just like us? She loves Starbucks and she eats Lunchables? This is wild!